Tetro
(2009)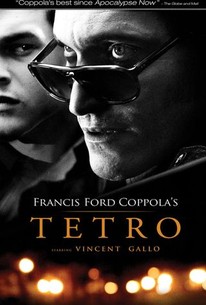 TOMATOMETER
AUDIENCE SCORE
Critic Consensus: A complex meditation on family dynamics, Tetro's arresting visuals and emotional core compensate for its uneven narrative.
Movie Info
On the heels of the self-financed, modestly budgeted 2007 drama Youth Without Youth -- his first directorial outing after a ten-year hiatus -- filmmaker Francis Ford Coppola remains situated in the director's chair for this semi-autobiographical family drama concerning an artistic family of immigrants whose fierce rivalries span several generations. Vincent Gallo stars with newcomer Alden Ehrenreich, with Carmen Maura, Maribel Verdú, and Alden Ehrenreich rounding out the cast. ~ Jason Buchanan, Rovi
News & Interviews for Tetro
Audience Reviews for Tetro
How incredibly frustrating it is to see a movie so compelling, wonderfully directed, technically exemplary and with a gorgeous cinematography go into self-destruction mode in the last thirty minutes, when it gives in to predictable revelations and silly situations worthy of a lame soap opera.
Carlos Magalhães
Super Reviewer
½
Carlo: What has happened to our family?  Bennie: Rivalry.  "Every family has a past." Tetro is a beautifully shot and acted film. It is filmed in black and white against, with Argentina as a setting. The career of Francis Ford Coppola is filled with masterpieces and a couple disasters, most notably Jack. Tetro is in-between. It is incredibly well made, but comes off as a little overly artsy at times. I enjoyed it, but I can see it being a little off-putting.  The story concerns two brothers. Bennie is the youngest, and is sensitive and emotional. The other is Tetro, who is the oldest and seems mean spirited in the beginning, but as we learn the back story it makes more and more sense. The two brothers haven't seen each other in a decade, when Bennie shows up at Tetro's apartment. Tetro had left for a writing sabbatical, leaving a note for Bennie, saying he would come back and get him. That never happened and Bennie is hurt by it. He just wants to be close to his brother, but Tetro left the family a long time ago. They strike up some sort of relationship as we slowly piece together the family's story. It all leads to a plot, I don't want to say twist, but sharp right turn would work. Everything about the movie is beautiful. The scenery, the cinematography, the performances from Vincent Gallo, Alden Ehenreich, and Maribel Verdú, and of course Coppola's signature touch. The only real problem I have with the movie is there's about a twenty to thirty minute period in the middle that just dragged. But the beginning and ending are great. What you need to know about the movie is that it is extremely slow and relies much more on character, over plot. It could easily come off as boring, but it is always marvelous to look at. Plus Vincent Gallo always keeps the viewer interested.
Melvin White
Super Reviewer
When is this fucking picture supposed to take place? 1970's? 1940's? now? judging by Vincent's outfits, it should be 1979, except he dresses like that everyday on and off the sets of movies. i think his mother brought him home from the hospital with women's bell-bottoms and red boots on. its pretty funny to watch him in 90% of his scenes with an unlit cigarette in his mouth and it just sits there like a funny hat. he moves it around with his teeth, takes it in and out between words, and the few times you see him light it, no smoke comes out of his mouth. so i think he's trying some of those new toothpicks that are designed to look like cigarettes. he doesn't smoke in real life. as a Vincenzo obsessor, i can say this is one of his best works in terms of just being an italian prick. this is also apparently the first film he had rehearsed for, which shows because you can see the prickiness in his eyes in every shot. and when he lights his cigarettes and doesn't even take the energy to inhale, you can just tell he fucking hates people really hard. Vincent Gallo mumbles the word "asshole" in his sleep.
Coxxie Mild Sauce
Super Reviewer
Tetro Quotes
There are no approved quotes yet for this movie.