Tetsuo: The Ironman
(1989)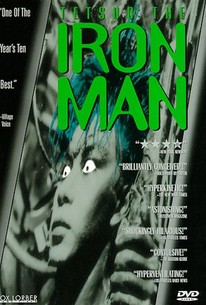 Tetsuo: The Ironman Photos
Movie Info
An hour-long feature from Japanese director Shinyu Tsukamoto, Tetsuo (also known as Tetsuo: The Iron Man) tells a horrific, cyberpunk-influenced science fiction tale about the intersection of man and post-industrial technology. The central character is a Japanese salary man, an average office worker who is transformed by a brief encounter with a metals fetishist, a man who has purposefully implanted pieces of scrap metal in his body. The salary man soon begins sprouting pieces of metal from various parts of his body, a change which is accompanied by increasingly nightmarish visions and bizarre, metal-filled sexual fantasies. As the man evolves into a strange hybrid of man and machine, he also develops a telepathic connection with another of his kind: the metal fetishist, who has been undergoing a similar conversion, and may indeed be the cause of the salary man's transformation. The two engage in a violent, destructive battle throughout the streets of Tokyo, accompanied by an appropriately industrial soundtrack. Shot on a small budget in 16 millimeter black-and-white, Tsukamoto reprised many of the images and plot elements of Tetsuo in a higher-budgeted sequel, Tetsuo II: Body Hammer. ~ Judd Blaise, Rovi
Critic Reviews for Tetsuo: The Ironman
Audience Reviews for Tetsuo: The Ironman
[img]http://images.rottentomatoes.com/images/user/icons/icon14.gif[/img]
Directors Cat
Super Reviewer
Part man, part machine; Shin'ya Tsukamoto's 'Tetsuo The Iron Man' is the perfect allegory for the industrial world we inhabit. It tells the story of a salary man, who, upon hitting a metal fetishist (earlier seen inserting scrap metal into himself) begins the transformation himself from man to machine. Truly worthy of its avant garde classification, 'Tetsuo The Iron Man' is a testament to the originality that is unique to film and is an unequivocally intriguing and insane experience unlike any other. The artistic choices throughout the film give it a sense of uncontrollable madness, viewers are thrust into a black a white metal dystopia fraught with imaginative cinematography and visual, stop motion effects unlike any seen before. It's easy to occasionally feel lost during the film's 67 minute running time but that hardly takes away from the undeniable experience.
Cameron Sherwell
Super Reviewer
A man finds himself transforming, from the inside out, into a creature made of metal in this influential and gory experimental Japanese film. It's an almost nonsensical but extremely intense barrage of images of dehumanization; welcome to the machine age.
Tetsuo: The Ironman Quotes
There are no approved quotes yet for this movie.