The Texans
(1938)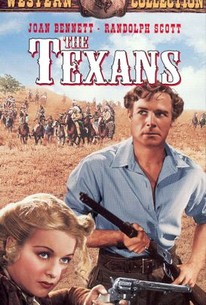 AUDIENCE SCORE
Critic Consensus: No consensus yet.
Movie Info
In the rough-and-tumble world of post-Civil War Texas, ex-Confederate soldier Kirk Jordan (Randolph Scott) crosses paths with ranch owner Ivy Preston (Joan Bennett). Although a loyal Southerner, Jordan can't get past the waste and tragedy of the four years that have just ended, but Ivy is eager to help keep the war for the Confederacy alive, running guns to her would-be lover, unrepentant ex-Confederate captain Alan Sanford (Robert Cummings), who is prepared to ally himself with the Mexican emperor Maximilian as a means of starting a new war against the "Yankee" government. Ivy is attracted to Jordan after he boldly helps her evade an army checkpoint, until she finds out how relatively peaceable he is. Jordan and his sidekick, Cal Tuttle (Raymond Hatton), are prepared to make a cattle drive to the new railhead at Abilene and sell at a handsome profit, but Ivy wants nothing to do with the United States or Yankee money, even as her more practically minded grandmother (May Robson) and her foreman, Chuckawalla (Walter Brennan), try to convince her otherwise. Only when Isaiah Middlebrack (Robert H. Barrat), the corrupt local administrator for the occupying Northern government, arrives announcing a head-tax on cattle does she change her mind and begin to see some worth in Jordan's ambition and boldness. Two deaths, of Middlebrack and a much-loved ranch hand, allow the ranchers and the occupying soldiers to reconcile and make the drive together to the border. Jordan and his outfit find a stricken, desperate Abilene, bereft of anything to be shipped on the new rail line. Jordan's arrival accomplishes everything he hopes for and more, and in the end Ivy sees and also glories in his vision, of a United States reunited and restored, growing and thriving as never before. But Jordan can't abide her continued affection for Alan, whose continued obsession with restoring the Confederacy is wearing on him and almost everyone else by now, and he plans on leaving. Ivy doesn't want to see that happen, but is torn over her lingering affection for Alan. But then she learns that he is planning to join a new organization, the Ku Klux Klan, intended to drive the Yankees out of the South, and she suddenly has to choose with which of these men her future lies.
Critic Reviews for The Texans
Audience Reviews for The Texans
½
Ordinary western helped by two high quality supporting players, May Robson, full of vinegar and Walter Brennan all down home grit. Whenever they're on screen the picture is a lot of fun. The leads, Randolph Scott and Joan Bennett aren't bad just sort of colorless. Both have been much better elsewhere. Joan, blonde here, really seemed to come into her own a few years on when she switched to brunette it seemed to define her image and make her a more dominant player.
The Texans Quotes
There are no approved quotes yet for this movie.