Texas Killing Fields
(2011)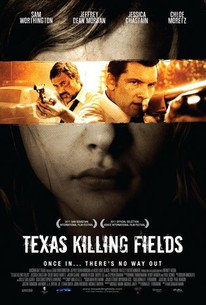 Texas Killing Fields Photos
Movie Info
Inspired by the string of real-life unsolved murders in a small Texan town, this tense and haunting thriller follows a local homicide detective (Sam Worthington), and his partner, a transplanted cop from New York City (Jeffrey Dean Morgan) as they track a sadistic serial killer dumping his female victims' mutilated bodies in a nearby marsh dubbed The Killing Fields. The killer changes the game and begins hunting the detectives, teasing them with possible clues at the crime scenes while always remaining one step ahead. When a familiar local girl (Chloë Grace Moretz) goes missing the detectives find themselves in a race against time to find their killer before she is murdered. -- (C) Anchor Bay
News & Interviews for Texas Killing Fields
Critic Reviews for Texas Killing Fields
Audience Reviews for Texas Killing Fields
½
Some ideas and especially the atmosphere of the southern swamps remind of the first True Detective season, and came out years before it. But the timing is off a couple of times and the characters just aren't as compelling. In the end the film does pick up a little speed and you can't blame a story based on real events for being not particularly spectacular or surprising. But if it wasn't for the good names in the cast this would have been instantly forgotten.
Inspired by actual events, this is the directorial debut of Ami Canaan Mann- the progeny of the great Michael Mann. This is a police procedural about two detectives trailing a killer known for kidnapping and mutilating women, then dumping their bodies in a marshy area of Texas dubbed "The Killing Fields". Their case takes a turn when the killer decides to set his sight upon them. For the most part, this is pretty standard stuff. It's not groundbreaking, but certainly watchable. It looks great, and the cinematography is probably the best aspect. The cast are notable, but their performances are serviceable, but nothing more. The film is suspenseful, but it could have used a lot more visceral moments and action. Also, the presentation is fractured in its chronology at times, which I found to be a bit unnecessary. As far as developments with plot and characters, you get just enough, but even then, a lot of it is just standard stuff we've seen before. I give it credit though for at least keeping my attention, even if there's really not a whole lot that goes on. See it if you want, but it's fine if you don't.
Chris Weber
Super Reviewer
Once in... There's no way out. Not so good.... I really wanted to like this movie. It has good actors, and the chance of a great storyline. Unfortunately, that did not help this movie in the least. When it comes to this kind of cop film, you need direction, some one that can tell the story at a good pace, connect all the dots, get you engrossed in the mood of the film, make you sit and wait for more clues and so on, but this film lacks all of that. At the end your lost in the story, characters are totally uninteresting and you know when you are done with the movie that you could have spend your time differently. Not recommended! Souder, a homicide detective in a small Texan town, and his partner, transplanted New York City cop Detective Heigh, track a sadistic serial killer dumping his victims' mutilated bodies in a nearby marsh locals call 'The Killing Fields'. Though the swampland crime scenes are outside their jurisdiction, Detective Heigh is unable to turn his back on solving the gruesome murders. Despite his partner's warnings, he sets out to investigate the crimes. Before long, the killer changes the game and begins hunting the detectives, teasing them with possible clues at the crime scenes while always remaining one step ahead. When familiar local girl Anne goes missing, the detectives find themselves racing against time to catch the killer and save the young girl's life.
Texas Killing Fields Quotes
| | |
| --- | --- |
| Detective Heigh: | Which one of you found the hand? |
| | |
| --- | --- |
| Mike Souder: | If she is in the fields, she is as good as gone. |