Texasville
(1991)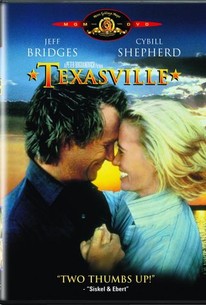 TOMATOMETER
AUDIENCE SCORE
Critic Consensus: An impressive array of talent on either side of the camera helps compensate for Texasville's inability to live up to its classic predecessor, but it isn't quite enough.
Movie Info
Texasville is Peter Bogdanovich's much-delayed sequel to The Last Picture Show. Adapted from Larry McMurtry's novel and told as a series of episodes, Texasville follows the characters from The Last Picture Show as they reunite in a small Texas town nearly 30 years after the end of the last movie, and face a number of adult problems, as well as confronting lingering emotions and memories from adolescence.
Critic Reviews for Texasville
Audience Reviews for Texasville
Honestly, this the most bizarre sequel to The Last Picture Show. It's actually just as good, but completely different in story, visuals and mood. This is a complete black comedy as opposed to the fairly serious approach to the original. The characters have seemed to all lost their minds except for Jeff Bridges' Duane, who is slowly being worn down by his chaotic life that was never wanted by him in the first place. The main theme is about middle age and living with regret, but just as much about the effect of the 80s on a small town. I think it's actually a good thing that this isn't just more of the same. Peter Bogdonavich seemed to really want to make a separate and unique movie instead of a sequel. The performances are still great and the writing is clever, which is all you can ask for.
Conner Rainwater
Super Reviewer
While "Texasville" is a sequel to Bogdanovich's classic "The Last Picture Show", they are very different movies. While "The Last Picture Show" is a dark portrait of the sexual morals in the 50s, "Texasville" a colorful portrait of sexual ambivalence in the Reagan 80s. All the actors are clearly having a blast reprising their iconic roles and Bogdanovich's deft balance of drama and comedy is masterful. "Texasville" works as a sequel and also as a standalone film of love lost, middle age concerns and dealing with the sheer lunacy that life always throws your way. "Texasville" is a long forgotten gem.
Steven Carrier
Super Reviewer
½
While Last Picture Show was clearly Sonny's story, Texasville decides to relegate him to the background (Timothy Bottoms not being the draw he once was, apparently) and focuses instead on Duane and Jacey -- whose story clearly ended all those years ago, as it certainly doesn't go anywhere here. Almost everyone returns for this sequel, which is kind of sad, when you think about it. Cloris Leachman and Eileen Brennan reprise their roles, but they needn't have done, as the characters have nothing to do with the story (such as it is). And Randy Quaid is at his most annoying, playing a variation on his Cousin Eddie character. No, I could have done without this one altogether.
Texasville Quotes
There are no approved quotes yet for this movie.