Thank Your Lucky Stars
(1943)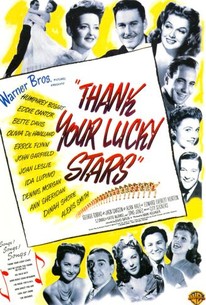 AUDIENCE SCORE
Critic Consensus: No consensus yet.
Thank Your Lucky Stars Photos
Movie Info
Practically everybody on the Warner Bros. lot shows up in the wartime morale-boosting musical extravaganza Thank Your Lucky Stars. Believe it or not, this one has a wisp of a plot. A pair of enterprising producers, played by S.Z. Sakall and Edward Everett Horton, want to hire singer Dinah Shore for their upcoming Cavalcade of Stars. Unfortunately, this means they must deal with Shore's boss, radio comedian Eddie Cantor. The egotistical Cantor insists upon joining the show himself, driving everyone crazy with his take-charge attitude. Meanwhile, singer Dennis Morgan, hoodwinked by a crooked agent into thinking he's signed a contract with Cantor, shows up backstage at Sakall and Horton's rehearsal, only to be given the boot. While all this is going on, aspiring actress Joan Leslie has befriended a bus driver named Joe Simpson--who happens to be a dead ringer for Eddie Cantor (and why not? Ol' "Banjo Eyes" plays both parts). Turns out that Joe is another showbiz wannabe, but he has been denied a break because he looks too much like Cantor. You see what's comin' now, right, folks? Morgan and Leslie will get their big breaks when Joe Simpson impersonates Eddie Cantor, who's been kidnapped by Indians (bet you didn't see that one coming!) All of this expository nonsense is merely an excuse to show off Warners' talent roster in a series of engaging specialty numbers: John Garfield talk-sings Blues in the Night, Jack Carson and Alan Hale do a buck-and-wing, a jitterbug number is performed by Ida Lupino, Olivia de Havilland and George Tobias, Hattie McDaniel and Willie Best strut their stuff in Ice Cold Katie, and so on. Highlights include Errol Flynn's That's What You Jolly Well Get, an English music hall-style sendup of Flynn's movie heroics, and Bette Davis' peerless (and endearingly off-key) rendition of They're Either too Young or Too Old. As a bonus, Humphrey Bogart shows up long enough to be browbeaten and intimidated by S.Z. Sakall ("Gee, I hope none of my movie fans see this!" moans Bogart as the soundtrack plays a mocking rendition of Who's Afraid of the Big Bad Wolf?) Subtle and sophisticated it isn't, but Thank Your Lucky Stars is so entertaining that you'll forget all about its multitude of flaws.
Critic Reviews for Thank Your Lucky Stars
Audience Reviews for Thank Your Lucky Stars
Don't get excited that you'll see Bogart sing or dance or something in this movie, because he only has a cameo. Apart from that disappointment, I enjoyed this movie more than the other wartime cavalcade of stars films, it actually has a funny story surrounding the show.
All Star Warner Bros hokum, connecting story thread is inane but it's fun to see the stars cut loose and offer something different and seeming to be having a good time doing it.
Thank Your Lucky Stars Quotes
| | |
| --- | --- |
| Nurse Hamilton: | According to his (Cantor's) pulse, he's been dead for 43 weeks. |
| | |
| --- | --- |
| Tom Randolph: | Why don't you relax? |
| Himself: | If you want Dinah Shore you don't talk to HER.(Horton) |
| Himself: | If you want Dinah Shore you don't talk to HER. [Horton] |
| Barney Johnson: | Barney Jackson never let a client down. |
| Barney Johnson: | Now there's 50 dollars worth of advice and now we're even. |
| Tom Randolph: | I got my radio deal, 500 bucks, I'm set for life. |