Thanks For Sharing
(2013)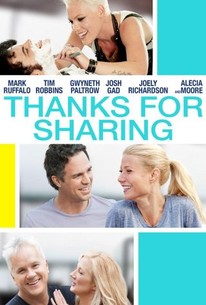 TOMATOMETER
AUDIENCE SCORE
Critic Consensus: Thanks For Sharing showcases some fine performances but doesn't delve into its thorny premise as deeply as it should.
Thanks For Sharing Photos
Movie Info
On the surface Adam (Ruffalo), an over-achieving environmental consultant, Mike (Robbins), a long-married small-business owner, and Neil (Gad), a wisecracking emergency-room doctor, have little in common. But all are in different stages of dealing with addiction. Confident and successful in his career, Adam is afraid to allow love back into his life, even if that means losing a chance to start over with smart, beautiful and accomplished Phoebe (Paltrow); Mike's efforts to control his wife, Katie (Richardson), and son, Danny (Fugit), as tightly as he does his impulses are tearing the family apart; and Neil is still deeply in denial when befriended by Dede (Moore), who has just begun to take her own small steps back to health.. As they navigate the rocky shores of recovery, Adam, Mike and Neil become a family that encourages, infuriates and applauds each other on the journey toward a new life. (c) Roadside
News & Interviews for Thanks For Sharing
Critic Reviews for Thanks For Sharing
Audience Reviews for Thanks For Sharing
The main problem with this film is that it splits time between three different sets of couples so we barely get a glimpse into their lives and their struggles with their disease. This is most evident by our main character barely ever being onscreen, and most of his issues aren't touched upon. Ruffalo's character struggles with his addiction and honorably refrains while in a relationship, charting the new waters between lust and love. Still, we don't know him as a character, so his growth doesn't really interest us. We don't know who he was before when he was suffering from his addiction, or how he eventually starting going to treatment, or what steps he should have taken with his love interest. The other two storylines are more fleshed out, but only one really peaks interest. Robbins is married with a son who he most atone towards, since he was a drunk and a womanizer while he was a child. This is an impressive storyline that shows the bleak reality of addiction and its effect on loved ones. Josh Gad and Pink play newly anointed sex addicts who navigate friendship and each grow substantially over the course of the film. Theirs is the most fulfilling, funny, and heartwarming storyline, and the only entertaining part of this film. Otherwise it's a very watered down drama that only tells some aspects of this disease.
Spencer S.
Super Reviewer
½
3 1/4 stars--This story had real potential, and some really good actors. I was expecting a good film. But, the movie is just a standard rom-com with an attempt at a good story plugged in. The end the movie tries to become something special, but it is too little, too late. The movie just falls flat, even the good actors can't save it. I didn't hate it, but I expected so much more..
Cynthia S.
Super Reviewer
Life is a journey you never have to take alone. Good drama/comedy film! The movie depicts a surprisingly complete spectrum of victories, failures, and facts of recovery: meetings, sponsorship, relapses into addiction, a "crash", a "crash and burn", job loses, near relapses, just-in-time phone calls, phone calls which went unanswered at critical times, suspicious girlfriends, wary wives, male addicts, female addicts, addict parents having to confront the affects of their addiction on their own children, addicts having to deal with their abusive parents, starting a healthy relationship with another addict in recovery or with a non-addict, the confusion caused by sex after long abstinence from sex, multiple addictions, and, above all, a message of hope and freedom. It's all there, and it's there in a surprisingly compact story. The main cast were great and their characters were interesting. More importantly, the film didn't suffer from the current trait of being too long for the storyline. A romantic comedy that brings together three disparate characters who are learning to face a challenging and often confusing world as they struggle together against a common demon: sex addiction.
Thanks For Sharing Quotes
There are no approved quotes yet for this movie.