That Awkward Moment
(2014)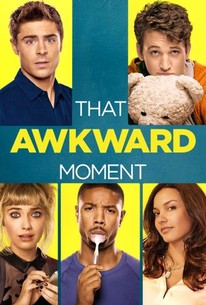 TOMATOMETER
AUDIENCE SCORE
Critic Consensus: Formulaic and unfunny, That Awkward Moment wastes a charming cast on a contrived comedy that falls short of the date movies it seems to be trying to subvert.
That Awkward Moment Photos
Movie Info
Zac Efron, Miles Teller and Michael B. Jordan star in the R-rated comedy, THAT AWKWARD MOMENT, about three best friends who find themselves where we've all been- at that confusing "moment" in every dating relationship when you have to decide "So...where is this going?" (c) FilmDistrict
News & Interviews for That Awkward Moment
Critic Reviews for That Awkward Moment
Audience Reviews for That Awkward Moment
½
Three bros navigate the perils and promise of modern romance. One is freshly separated from his cheating wife; one is a serial ladykiller who meets his match but is too set in his ways to commit; and one gradually catches feelings for his platonic wingwoman. The prior two stories are par for the course, despite Zac Efron and Imogen Poots being rather likable together. None of the moments are that awkward, and some of the jokes are too "in." What's really surprising is the third story, which begets (another KStew doppelganger) Mackenzie Davis's excruciatingly lovely moment as an open mic night chanteuse with her soulful and modern rendition of "After You've Gone," chased by Miles Teller's so-subtle-and-you'll-miss-it look of admiration then dismissal.
Alice Shen
Super Reviewer
I had very low expectations for this movie. All the reviews were bad, and it generally just didn't look that good. As a story, it's a very uneven dramedy about relationships. When it's funny, it's really funny. But when it focuses on the drama, it stutters. Having said that the cast is fantastic. Michael B. Jordan, Zac Efron, and Miles Teller are all 3 actors with very bright futures. Especially Teller, the guy is hilarious in everything. This is one of those movie where in 10 years people will be like "damn! they were in a movie together like that?!" It sure won't be remembered for much else. Emily watched the whole thing and thought it was ok. If she likes it, I'm sure all the women will too. Guys, there's at least 1 scene at a party that makes the whole thing worth it. Check it out sometime.
Everett Johnson
Super Reviewer
½
Wow, what a disappointment this one turned out to be. I didn't care for any of the characters and the acting was just so-so. I really didn't pay attention to the trailers for this movie I just saw that it had Miles Teller, Zac Efron, and Michael B. Jordan in it and thought maybe it would be funny. I won't say the film didn't make me laugh, because it did a couple times. But most of the time I was pretty much bored. The truly only really funny part is where Zac's character shows up to the birthday party in his ridiculous outfit (which I loved). That was the most 'awkward' moment in the film as well. In the end it's not a film I would see again.
♥˩ƳИИ ƜѲѲƉƧ♥
Super Reviewer
That Awkward Moment Quotes
There are no approved quotes yet for this movie.