That Day (Ce jour-là)
(2003)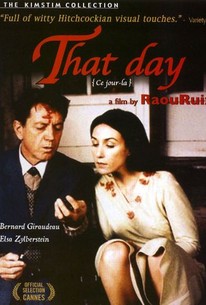 Movie Info
Master filmmaker Raúl Ruiz adds a black comedy to his far-reaching body of work with That Day, a playful meditation on money, death, and false spirituality. Livia (Elsa Zylberstein) and Pointpoirot (Bernard Girardeau) are, respectively, a spoiled society woman who suffers from delusional visions of heavenly apparitions and a crazed serial killer on the loose after a successful prison break. It isn't long before fate brings the two together, and after thwarting Pointpoirot's initial attempts to murder her, Livia soon warms to the charming sociopath. The duo makes short work of Livia's greedy family -- who were planning on killing her and collecting her fortune, anyway -- and as the death count rises, a romance develops between the two.
Critic Reviews for That Day (Ce jour-là)
Audience Reviews for That Day (Ce jour-là)
A darkly comic symphony of poetic justice. Elsa Zylberstein is a living, breathing work of art in this bizarre treasure from director Raoul Ruiz.
Randy Tippy
Super Reviewer
[font=Century Gothic]"That Day" takes place in Switzerland in the near future. Livia(Elsa Zylberstein) has been told by a flock of prognosticators to expect wonderful things on the following day. But fate has other things in store for her. A homicidal maniac, Emil Pointpoirot(Bernard Giraudeau), has been unofficially released from an asylum and has been directed to where Livia, all alone for the day, lives.[/font] [font=Century Gothic][/font] [font=Century Gothic]Written and directed by Raoul Ruiz, "That Day" is a gleefully deranged black comedy about of all things the treatment and exploitation of the mentally ill. A person's sanity is not a true indication of how dangerous they may be. And it is true that Pointpoirot is a menace to everyone around him but somebody did let him loose on society...[/font]
½
A wonderfully strange film filled with incredibly interesting characters. The most brilliant darkly comic film I've ever seen. The humour is so clever and subtle in some ways and so wild and crazy in others, always off-kilter. Some very beautiful and interesting shots. The most fascinating scenes had to be between the seemingly crazy leads. Their beliefs and way of expressing themselves was very absorbing. The cops were incredibly amusing to watch as well, I give them props for successfully pulling off understated yet comedic performances.
Laura Cameron
Super Reviewer
That Day (Ce jour-là) Quotes
There are no approved quotes yet for this movie.