That Hamilton Woman
(1941)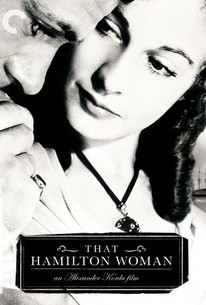 That Hamilton Woman Photos
Movie Info
Acting spouses Laurence Olivier and Vivien Leigh star in Alexander Korda's tragic tale of the adulterous love affair between Emma Lady Hamilton and Lord Horatio Nelson. The story begins in 1786, as the young and vivacious Emma Hart (Vivien Leigh) marries Sir William Hamilton (Alan Mowbray), the British ambassador to the court of Naples. Seven years pass and British naval hero Lord Horatio Nelson (Laurence Olivier) arrives at court to gain the king's assent in the war against Napoleon. Lady Emma and Lord Nelson fall in love. When they return to England, Emma and Nelson unashamedly begin to live together, although Nelson's wife refuses to divorce him. When the war takes a bad turn, Emma convinces Nelson to resume command and Nelson goes off to lead the victory at Trafalgar, where he is mortally wounded. After Nelson's death, Emma falls into depression and despair.
Critic Reviews for That Hamilton Woman
Audience Reviews for That Hamilton Woman
½
Who's Winston Churchill? Did he ever make a movie? No? Then what's the big deal? Well reportedly he finagled to have this one made, Brit propaganda from inception to final credits, all about Brit superstar and icon Lord Nelson and his dangerous liasion with a married lady from the wrong side of the tracks. Delivered with finesse and verve by Olivier and Leigh, in the flush of their fame and talent, there is a sort of magical spell evoked, and the recreation of Nelson's passing (high on Brit radar, nil on American) (oh! spoiler alert!, dammit!) might tug a tear or two.
Kevin M. Williams
Super Reviewer
A long movie, but worth it, it's got a great cast and story. I really liked this movie.
In "That Hamilton Woman," Emma Hart(Vivien Leigh) travels to Naples with her mother(Sara Allgood) on vacation before her fiance is set to arrive. She is extremely disappointed to hear from her future father-in-law(Alan Mowbray), the British ambassador, that he will not be coming. And she is absolutely livid that he purchased her rights for 5000 pounds and a fresco to be named later. Three years later, they are happily married. At least, that is the case until Captain Horatio Nelson(Laurence Olivier) makes a social call. "That Hamilton Woman" is an opulent movie that takes a decidedly sideways glance at history, almost turning an important point in history into an overheated soap opera. There are a couple of allusions to Emma's past via "Salome's Last Dance" that definitely sound racy for any time. According to the movie, she is almost responsible for all of us speaking French and I'm still torn if that would be a bad thing. Of course, saying your empire is morally superior to the other fellow's is a silly exercise at best but then this movie was made during World War II so some allowances should be made, as Olivier's speeches take the day in a warmup for his "Henry V." In the end, I am left wondering if Nelson would have been happy with any peace, mostly because I am the type of person who would prefer people make hot sweaty sex, not war.
That Hamilton Woman Quotes