That Obscure Object of Desire
(1977)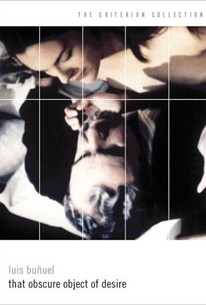 That Obscure Object of Desire Photos
Movie Info
Iconoclastic Spanish filmmaker Luis Bunuel bade "adios" to admirers and detractors alike with 1977's That Obscure Object of Desire (Cet Obscur Objet du Desir) is no less challenging and outrageous than the director's earlier films. Bunuel "regular" Fernando Rey plays a wealthy, obsessive S&M freak who falls in love with a beautiful Spanish maiden, played in some scenes by Carole Bouquet, in others by Angela Molina (Why two actresses? Bunuel never explains). Arranging to hire the girl as a maid, Rey becomes her willing emotional slave, enduring her insistence upon withholding sex from him while she parades around with a younger lover. No matter how badly the girl treats Rey (she protests that she loves him, even as she habitually walks out on him) he is willing to follow her to the ends of the earth--or at least to the out-of-nowhere terrorist bombing that climaxes this film. That Obscure Object of Desire was based on Pierre Louys' novel The Woman and the Puppet, previously filmed in 1929, 1935 (as Josef Von Sternberg's The Devil is a Woman) and 1960.
Critic Reviews for That Obscure Object of Desire
Audience Reviews for That Obscure Object of Desire
½
A rich old man (Fernando Rey) courts 18-year old Conchita (who, with no explanation, is played by two different actresses) over the years, but she seems to be toying with him, and he never achieves the object of his desire. In Bunuel's previous THE DISCREET CHARM OF THE BOURGEOISIE (1972) the attendees at a dinner party could never eat because of continual interruptions; in this droll comedy, Rey can never... you know.
'what do I have to do? what do I have to do...to prove my love to you'
Stefanie C
Super Reviewer
Now this is a lot of fun. Luis Bunuel's final film, "That Obscure Object of Desire" charts the relevant yet rocky terrain of passion vs. obsession and love vs. absurdity. Bunuel does some really intriguing things with casting, cross cutting stories and the actors have fun with their wacky and juxtapositional dialogue. I love movies about 'emotional terrorism' and this is one of the earlier films to probe the theme. It's funny, timely (even though it was released in 1977) and intriguing.
Steven Carrier
Super Reviewer
That Obscure Object of Desire Quotes
There are no approved quotes yet for this movie.