That Old Feeling
(1997)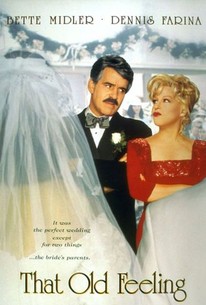 Movie Info
What should have been the happiest day of Molly's life turns into a chaotic nightmare when her husband-to-be insists that she invite her volatile, long-divorced parents to the wedding. Molly (Paula Marshall), knowing that her parents are like nitric acid and glycerine when they get together, tries to convince her straight-laced, politically ambitious husband Keith (Jamie Denton) not to invite them both, but he won't hear of it. On the big day, Molly's mother Lilly (Bette Midler), an aging actress, shows up with her psychobabbly husband Alan (David Rasche) while Molly's father Dan (Dennis Farina) shows up with his surgically lovely wife Rowena (Gail O'Grady). The two former combatants manage to keep a lid on their still simmering rage during the ceremony, but afterward things rapidly heat up and boil over into a furious verbal sparring match. Lilly and Dan are hastily exiled to the parking lot where their rage turns to hastily consummated passion. Though calmer when they finally return to the reception, both realize that they have some unfinished romantic business. They ruin poor Molly's honeymoon by embarking on an illicit affair of their own in the next room. Things get worse when Lilly and Dan abandon their respective spouses to tryst their way across the city. Poor Keith, worried that the scandal will impact his political career, is as angry as the embarrassed Molly is appalled. To find her errant parents before they cause a stir, Molly enlists the aid of the tabloid photographer (Danny Nucci) who follows Lilly everywhere. More trouble brews when Molly, much to her mother's delight, finds herself more attracted to the free-spirited picture taker than her new husband. Fast-paced and brimming with deliciously nasty zingers, That Old Feeling is a fun-filled throwback to the golden age of romantic bedroom comedies.
Critic Reviews for That Old Feeling
All Critics (14) | Top Critics (5) | Fresh (6) | Rotten (8)
Reiner benefits from divine intervention from no less than Miss M herself. Bette Midler flings the usual zingers with fang-baring zeal in a part that plays to her brassy strengths.
January 1, 2000 | Rating: 2.5/4

What's in slow motion here is the progress of the plot. Every development is exhausting because we have arrived at it long, long before the characters.

Surprisingly funny bickering couple movie.
August 11, 2003 | Rating: 3/5
Audience Reviews for That Old Feeling
An amusing but silly comedy. Pretty much It's Complicated for the 90s but not as much going on storywise.
Sunil Jawahir
Super Reviewer
Movie star Bette Midler and writer Dennis Farina give an excellent performance as two ex-lovers who hate each other so much, that they fall in love again at their daughter's wedding party. Along the way are some pretty funny scenes with some interesting characters like Roach, the paparazzi guy who follows the movie star around and wants to print all in a sleazy tabloid.
That Old Feeling with Bette Milder and Dennis Farina is a funny film. Bette and Dennis have good chemistry together as a couple whom diveroced. Bette looks great in this film and it is worth watching....a good comedy involving two couples....one whom might just start something new and the other possible may rekindle "that old feeling."
Mason Williams
Super Reviewer
That Old Feeling Quotes
There are no approved quotes yet for this movie.