That Touch of Mink
(1962)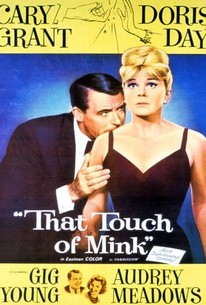 That Touch of Mink Photos
Movie Info
When people refer to Doris Day as "the world's oldest professional virgin," they generally have the 1962 comedy That Touch of Mink in mind. It isn't that Cathy Timberlake (Day) is above a bit of hanky-panky; it's just that she wants such tangibles as a marriage license and wedding ring first. Thus, when playboy businessman Philip Shayne (Cary Grant) begins actively pursuing Cathy (they "met cute" when Philip's limo splashed mud on the hapless Cathy), she won't say "I will" until he says "I do." She is of the idealistic opinion that she can bring out the best intentions in him, even when he repeatedly tips off his worst intentions by inviting her to accompany him to Philadelphia, Baltimore, and Bermuda. After not a few complications and misunderstands, Cathy finally finagles a proposal out of Philip. The film is essentially much ado about nothing, but it is so well-acted and attractively photographed that the audiences are willing to go along for the ride. The high-powered supporting cast includes Gig Young as Roger, Philip's moralistic financial advisor; Audrey Meadows as Connie, Cathy's wise-cracking roommate; Alan Hewitt as Dr. Gruber, a confused psychiatrist; John Astin as Beasley, Cathy's slimy would-be beau; Dick Sargent as a neurotic honeymooner; and an unbilled Richard Deacon as an all-around letch. Best scene: the baseball-dugout rhubarb involving New York Yankees Mickey Mantle, Roger Maris, and Yogi Berra.
Critic Reviews for That Touch of Mink
Audience Reviews for That Touch of Mink
½
Grant plays Robert Redford as a billionaire used to getting what he wants and is willing to pay for it. Doris Day plays Demi Moore and both seem unaware that they are in fact 20 years older than the parts they are playing. From this minimalist foundation is made a marriage of charismatic styles concocted for whatever sizzle that may occur, no more, no less. It's an oddity, and viewable mainly for that reason alone, though Gig Young and Audrey Meadows labor mightily to add kitschy zing to the mix.
Kevin M. Williams
Super Reviewer
A businessman woos a lower class girl, but his refusal to marry her complicates their desires. This film could be offensive in its anti-feminist and classist depictions and its mockery of homosexuality. Or this film could be progressive in its satire of gender conventions and class boundaries; its lampoon of homosexuality is markedly clear. I struggle with making meaning out of the film. The idea that Roger would see transcending class boundaries as a punishment is ridiculous, but it's played that way in the film. The idea that women cannot choose to sleep with a man she fancies is also condemnable, and while there are moments when the film seems to agree, when Doris Day's character is made to say, "I will become a woman," in her decision to sleep with Mr. Shayne, I couldn't resist a stomach turn of repulsion that she would think her womanhood, or maybe even personhood, rests on her sexual escapades. It's a complicated mess, and I left this film unsure of what to make of it and even less sure whether I enjoyed it. Overall, the surface of this film is charming enough, but thinking about it causes concern.
Jim Hunter
Super Reviewer
This is a nice romantic comedy with good actors, and some funny moments, but overall not that great a movie, it's predictable and not Grant's best. It's an okay movie, though.
That Touch of Mink Quotes
There are no approved quotes yet for this movie.