That's Entertainment
(1973)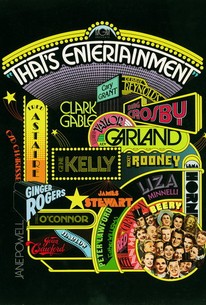 That's Entertainment Photos
Movie Info
It's ironic that MGM, in such dire financial straits in 1974 that it was selling its fabled back lot and auctioning off artifacts from past movie triumphs, enjoyed one of its biggest box-office hits with That's Entertainment, a compilation of musical highlights from the studio's golden days. Onscreen hosts Fred Astaire, Bing Crosby, Gene Kelly, Peter Lawford, Liza Minnelli, Donald O'Connor, Debbie Reynolds, Mickey Rooney, James Stewart, and Elizabeth Taylor introduce the various film clips while standing on what was left of the MGM lot (Rooney delivers his comments from the Andy Hardy street). The vignettes, in both color and black-and-white, include generous slices of such classic MGM songfests as The Wizard of Oz, Meet Me in St. Louis, An American in Paris, Singin' in the Rain, and Gigi. The film includes the montage of Mickey Rooney's "Let's put on a show!" speeches, Clark Gable hoofing to "Puttin' on the Ritz" in Idiot's Delight, and James Stewart (!) serenading Eleanor Powell from Easy to Love. Assembled by Jack Haley Jr., That's Entertainment proved such a hit that the 1976 sequel, That's Entertainment II, was a foregone conclusion.
Critic Reviews for That's Entertainment
Audience Reviews for That's Entertainment
Sure, it's just a video compilation piece, no different than something the History Channel might've produced, but if one has grown up watching the films in this compilation it transforms before your eyes, assuming the teary qualities of a deathbed goodbye of a hypochondriac, weakly whispering "remember the good times when ..." into your ear. You know that they're not dying, but nonetheless feel the strings of your heart pulled anyway and have to admire the work of a master manipulator despite yourself.
Kevin M. Williams
Super Reviewer
You talk about a great musical compilation film? This one is definetly it. It is one of the best's films I have ever seen. Audiences will never look at musicals the same way again. There is so much history and so much that went behind the old studio days at MGM and ultimatley MGM's downfall. My fav scenes without a doubt goes to Esther Williams in "Million Dollar Mermaid" and Fred Astaire in "Royal Wedding". Terrific stuff.
½
This is a fantastic compilation of musical and comedy numbers from movies of the 40s and 50s, with all the big stars from the era as well. I bet if I watched it now I'd know which numbers came from which movies.
That's Entertainment Quotes
There are no approved quotes yet for this movie.