That's What I Am
(2011)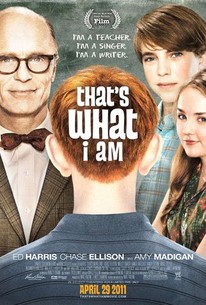 Movie Info
Set in California against the backdrop of the mid-sixties, That's What I Am is a coming-of-age story that follows 12-year-old Andy Nichol (Chase Ellison), a bright student who, like most kids his age, will do anything to avoid conflict for fear of suffering overwhelming ridicule and punishment from his junior high school peers. Everyone's favorite teacher, Mr. Simon (Ed Harris), pairs Andy with the school's biggest outcast and social pariah, Stanley aka "Big G" (Alexander Walters), on a critical school project. Sporting thick orange hair, a head too big for his body and ears too big for his head, "Big G" has been the object of ridicule since grade school. Before long, Andy will learn that there was truly a method behind Mr. Simon's madness as to why he teamed these two up. After a dramatic incident in the schoolyard, teachers and parents rethink their roles in school and society. Principal Kelner (Amy Madigan) suspends a school bully for brutally beating up a female classmate. The vindictive father of the bully makes Mr. Simon the target of a malicious rumor about his sexuality, causing Mr. Simon to question his calling as an educator and mentor to his students. When Andy watches "Big G" fearlessly confront the school bully about the incident, a series of events are triggered. Much to Andy's surprise, he learns that "Big G" is a brilliant, kind, tolerant human being, who as more dignity than anyone Andy has ever encountered. Big G personifies Mr. Simon's four word answer on how to obtain world peace: HUMAN DIGNITY + COMPASSION = PEACE. -- (c)Samuel Goldwyn Films
News & Interviews for That's What I Am
Critic Reviews for That's What I Am
Audience Reviews for That's What I Am
½
Cute film set in the 60s with a story that would be just as relevant set in today's culture. Definitely a "feel good" movie with heart!
Thomas Johnston
Super Reviewer
Dignity plus compassion equals peace is the message of this really enjoyable, nice little movie. As an added bonus, this was very Wonder Years-ish, complete with author narration. A good, solid story with interesting characters, and chock full of some very talented children. Ed Harris was, of course, fantastic! He adds a little special something to everything he is in...
Cynthia S.
Super Reviewer
"That's what I am" reminds me a bit of a cheesy wonder years rip off. The narration, the time period, the girl - and while I do say cheesy - I also must have to say, it worked magnificently! The movie had some great meaning behind it being released during WWE's waging of war on bullies while it is slightly exaggerated at points it reminds us how cruel children and humanity in general can be to those who seem a bit different then the rest of us. We all have our unique personalities, and one thing we should generally exercise is, "Tolerance" , if nothing else. This movie reminds us of being tolerant of differences and showing signs of human dignity that is hard to come by anymore. A great flick! And an awesome 'heel' performance by Randy Orton.
Bobby Hobbs
Super Reviewer
That's What I Am Quotes
| | |
| --- | --- |
| Mr. Simon: | You should always have a book with you. |
| | |
| --- | --- |
| Big G.: | I can't make them be nice people. And even if I could, there would be others to take their place. |
| | |
| --- | --- |
| Andy Nichol: | My father was a good man. He just wasn't very user friendly. |
| | |
| --- | --- |
| Mr. Simon: | I am a teacher that's what I am |
| Mr. Simon: | I am a teacher that's what I am. |