The 5th Quarter
(2011)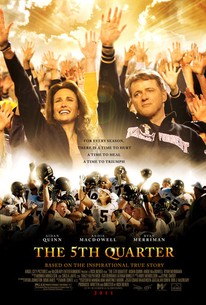 Movie Info
In February 2006, young Luke Abbate accepted a ride home from a fellow student following his high-school team practice. In a severe case of irresponsible and reckless teen-age driving, and over the objections of Luke and the other young passengers, the driver lost control of the car at nearly 90 miles-per-hour, spinning off a narrow road and landing in an embankment some seventy feet below. Luke suffered irreparable brain damage, and died in the hospital two days later - just four days before his sixteenth birthday. While in the hospital, the Abbate family made the difficult decision to permit the doctors to utilize Luke's organs in a nationwide organ transplant program. Five recipients were almost immediately identified, including a young mother who was suffering with serious heart disease. Sharing an uncommon blood type, Luke's heart was flown to the young woman's hospital location across the country, resulting in a successful heart transplant, and saving her life. Following his brother's death, Jon considered giving up his football career - but knew that doing so would not properly honor the younger brother who loved and idolized him. Upon his return to Wake Forest, Jon was given the approval of head coach Jim Grobe to change his number from his long-standing 40, to his brother's number 5. And, in so doing, dedicated the new season to the memory of his brother. The Abbate family founded The Luke Abbate 5th Quarter Foundation for the purposes of educating young people nationwide to the dangers and life-altering consequences of irresponsible driving. A tradition began to evolve during the following Wake Forest games. In paying homage to Luke, Jon would signal his family sitting in the stands (Section 5) by holding up his hand with all 5 fingers outstretched. He did this at the end of the third quarter. Gradually, the rest of his team started to do the same. Within a couple of games, players from both teams, the fans in the stands, and those watching the games on television, would begin the final quarter by raising their hands with all 5 fingers outstretched in honor of Luke's memory. The final quarter became known as Luke's Quarter, the 5th Quarter, and this humble signal crystallized the entire team. And, although having lost their starting quarterback, starting running back, and starting defensive end to injuries at the beginning of the season, Wake Forest went on to complete their most successful season in school history, winning 11 games against 2 losses. Coach Grobe was selected the ACC's Coach-Of-The-Year, and Jon performed brilliantly in the ACC Championship Game with fifteen solo tackles against powerhouse Georgia Tech. -- (c) Official Site
Critic Reviews for The 5th Quarter
Audience Reviews for The 5th Quarter
½
February 13, 2006, was a normal winter's day in a small suburb of Atlanta. Luke Abbate, a 15 year old High School Lacrosse star, accepts a ride home from a teammate. On the way the new driver decides to show off his driving skills by flying down the street at 90 MPH, when he loses control of the car. The car flies about 70 feet, injuring all the passengers and killing young Luke. It's a nightmare story that all families fear, when their kids start driving, the only difference about Luke's story is that it really happened. The 5th Quarter is a film dedicated to Luke's memory and tells the story of his family in the wake of such tragedy. As the film plays out, it starts to lean away from tragedy and toward triumph, the triumph of the 2006 Wake Forrest Championship Football team. There captain was John Abbate, Luke's brother. The team was supposed to finish dead last, but wound up having a miracle season. It is a story that was so well done, that it couldn't have been anything but a true story. I don't think any writer could have thought of a story like this. Ryan Merriman stars, once again in a sports drama, and of all his performances that I've seen, this had to be the strongest. Not only does he show tremendous athletic ability, but he takes the audience of a roller-coaster ride of emotion. Merriman was so good, that he even had a cold hearted cynic like myself, tearing up. Aidan Quinn and Andie McDowell play the matriarchs of the Abbate family, giving outstanding performances. They made the audience see and feel just what it was like for the Abbate family. Most films are meant to entertain, but the 5th Quarter does more than entertain, it tells a very important story and actually makes you feel something for the tragedies and hardships of other people. I was expecting to see a sports movies, instead I saw something that really made me think. Only the best the big screen has to offer can make you both think and feel for the characters.
Todd Smith
Super Reviewer
Drama based on real events...Good lord this movie went for the tears!! and it got plenty from me! I have to admit that tearful moments seemed to be the agenda of this movie, but I have to applaud them for all their efforts. I thought that they tried very hard to make a really decent, very meaningful movie, and succeeded. A very nice tribute to a young man lost too soon....
Cynthia S.
Super Reviewer
What a tearjerker. This felt totally manipulative, milking every tear out of an admittedly tragic situation, the death of the youngest son in a close-knit family. Andie MacDowell and Aidan Quinn star, but how many times can we watch the father deal with every new reminder of the son who is no longer there before the melodrama meter goes off the charts? This might have been meant as an inspirational story but a much lighter hand was sorely lacking. While this may have been based on a real story, the treatment here made it feel less real than it should have. And that is too bad.
Mark Abell
Super Reviewer
The 5th Quarter Quotes
There are no approved quotes yet for this movie.