The Admiral: Roaring Currents
(2014)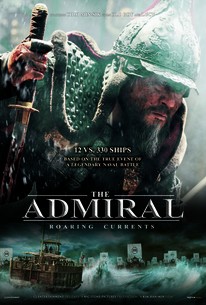 The Admiral: Roaring Currents Photos
Movie Info
The story of Korean history's most astonishing military victory by its greatly revered strategist, Admiral Yi Sunshin, who lures over 300 Japanese ships into a deadly trap where they meet their fate against only 13 battle ships. (c) CJ Entertainment
Critic Reviews for The Admiral: Roaring Currents
Audience Reviews for The Admiral: Roaring Currents
The Admiral: Roaring Currents rides the tide with Han-min Kim's direction. Sailing in at a solid 2 hours, it is a lengthy ride thanks to its slower pace, but the story does do an even split, with an hour of build up and an hour of naval carnage. While the set up is necessary the character interest isn't that great, leaving the first half a little bland and a bit dramatic. The naval battles have some entertainment value in them. Employed by some CG, which is not bad, the events on the Myeongnyang Strait goes back and forth with intriguing action elements. Min-sik Choi leads like he knows how to do. Seung-ryong Ryu has a devilish persona to him. The rest of the cast falls into battle formation. The Admiral: Roaring Currents stirs up commotion in the waters and is a watchable piece of history.
The Admiral: Roaring Currents Quotes
There are no approved quotes yet for this movie.