The Adventures of Bullwhip Griffin
(1967)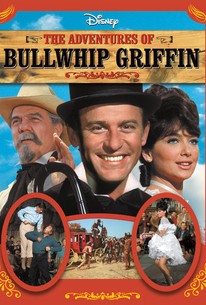 The Adventures of Bullwhip Griffin Photos
Movie Info
This rambunctious Disney comedy was based on the novel By the Great Horn Spoon by Sid Fleischman. Roddy McDowall plays Griffin, the very proper butler of Bostonian Bryan Russell. When Russell runs off to California during the 1849 gold rush, Griffin dutifully tags along. Master and butler team up with Shakespearean actor Richard Haydn, who owns a treasure map. Crooked judge Karl Malden (a master of many disguises), pilfers the map once Our Heroes reach San Francisco. While endeavoring to retrieve the valuable parchment, Griffin has any number of adventures, ranging from a bout of fisticuffs with ox-like Mike Mazurki to a romance with Russell's sister Suzanne Pleshette, a former debutante turned saloon singer. If Adventures of Bullwhip Griffin resembles an animated cartoon at times, credit should go to veteran Disney animator Ward Kimball, who provided the spirited cartoon transitions between scenes.
Critic Reviews for The Adventures of Bullwhip Griffin
Audience Reviews for The Adventures of Bullwhip Griffin
It's a silly kids movie from Disney, but I liked it, it's fun. The cast is good, and it's sort of a western comedy movie too. McDowall is really funny in this movie as he goes from the kids' butler to a fearless fighter. A really interesting, and almost unknown Disney movie, I hadn't heard of it before myself. I recommend it to both Disney and McDowall fans.
The Adventures of Bullwhip Griffin Quotes
There are no approved quotes yet for this movie.