The Adventures of Hajji Baba
(1954)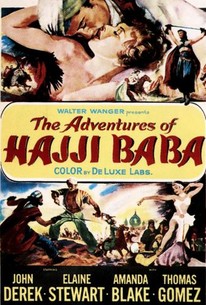 AUDIENCE SCORE
Critic Consensus: No consensus yet.
The Adventures of Hajji Baba Photos
Movie Info
In the 1950s, historical spectaculars set in the Far or Middle East became the repository for exploitive tales of eroticism, pure lust, and concupiscent freedom. The "decadence" of previous times gave American filmmakers an excuse to satisfy viewers' libidinal and voyeuristic desires. All this holds true for The Adventure of Haji Baba, a racy, sex-soaked oasis of a film. John Derek stars as an Persian barber given a mission to escort the beautiful princess Fakzia across a desert to her wedding. Haji bets a friend that he will have succeeded in seducing her by the trip's end and the games begin. The two, elegant in their self-assurance, trade barbs and entendres until they're captured by robbers who are in turn captured by a group of renegade Amazons. The Amazons are all former harem girls who have taken to highway robbery and kidnapping to extract a measure of justice from the society that imprisoned them. Haji convinces the leader of the Amazons to let him live and she does as long as he can perform sexually. This buys him enough time to plan an escape with Fakzia and finally cross the desert. Haji, of course, collects on his bet. Redolent with offscreen hints of prodigious debauchery, The Adventures of Haji Baba is a unique, and unexpected, product of '50s cinema.
Critic Reviews for The Adventures of Hajji Baba
Audience Reviews for The Adventures of Hajji Baba
½
Priceless junk that is pretty much explained by it's title. John Derek was a good looking man and at times an adequate actor but not here although the script such as it is doesn't really lend itself to major thesping. Elaine Stewart as the princess is even worse though enacting her role with all the passion of a petulant schoolgirl and showing that her eventual participation in numerous game show as a hostess was probably the best use of her talents. The only cast member to emerge with any kind of distiinction is Thomas Gomez who chews the high grade ham as an good hearted but opportunistic trader. The costumes are just about what you'd expect from this sort of sword and sandal flick but keep an eye out at about the hour mark for a young slave maiden wearing what truly appears to be a mop on her head!! The most baffling aspect of the whole thing is that it has a score conducted by Nelson Riddle and an (awful) theme song sung by the great Nat King Cole that is repeated over and over again throughout the flick. Enjoyable in a mindless colorful way.
The Adventures of Hajji Baba Quotes
There are no approved quotes yet for this movie.