The African Queen
(1951)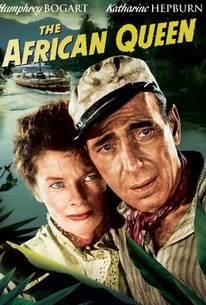 TOMATOMETER
AUDIENCE SCORE
Critic Consensus: Perfectly cast, smartly written, and beautifully filmed, The African Queen remains thrilling, funny, and effortlessly absorbing even after more than half a century's worth of adventure movies borrowing liberally from its creative DNA.
Movie Info
After years of wooing director John Huston via good reviews, film critic James Agee was given a chance to write the screenplay for a Huston picture. Adapted from a novel by C.S. Forester, The African Queen stars Humphrey Bogart in his Oscar-winning portrayal of Charlie Allnut, the slovenly, gin-swilling captain of a tramp steamer called the African Queen, which ships supplies to small East African villages during World War I. Katharine Hepburn plays Rose Sayer, the maiden-lady sister of a prim British missionary, Rev. Samuel Sayer (Robert Morley). When Germans invade and Samuel dies, Allnut offers to take Rose back to civilization. She can't tolerate his drinking or bad manners; he isn't crazy about her imperious, judgmental attitude. However it does not take long before their passionate dislike turns to love. Together the disparate duo work to ensure their survival on the treacherous waters and devise an ingenious way to destroy a German gunboat. The African Queen may well be the perfect adventure film, its roller-coaster storyline complemented by the chemistry between its stars. The profound difficulties inherent in filming on location in Africa have been superbly documented by several books, including one written by Katharine Hepburn. Screenwriter Peter Viertel (who worked, on an uncredited basis, on the script of this film - assisting with some of the dialogue) incorporated some of the African Queen anecdotes in his roman a clef about a Huston-like director/adventurer, White Hunter, Black Heart.
News & Interviews for The African Queen
Critic Reviews for The African Queen
Audience Reviews for The African Queen
A very entertaining and exciting adventure shot on location in Africa in glorious Technicolor and with a wonderful chemistry between Hepburn and Bogart - she as a smart, determined and strong-willed woman and he in a hilarious performance that granted him his only Oscar.
Carlos Magalhães
Super Reviewer
½
Two legends onboard a small boat is enough to create magic. A John Huston adventure always shines above the rest because of its gravitas, an inherent solemnity that here is conveyed through Bogart and Hepburn.
Pierluigi Puccini
Super Reviewer
Charlie Allnut: Oh, I'm not worried miss. Gave myself up for dead back where we started. "The greatest adventure a man ever lived... with a woman!" The African Queen is a movie I have wanted to see for a long time. It has the distinction of being one of those classic films that very film fan has to see. On top of that, it stars Humphrey Bogart and Katharine Hepburn and is directed by John Huston. So there's really nothing to deter you from wanting to watch it. When WW1 is launched, a missionary living in Africa with her minister brother, must leave with a rugged, riverboat captain; after her village is destroyed by German soldiers and her brother dies. Rose wants Charlie to go down the river, which worries Charlie a great deal because as he says, there's only death down the river. He reluctantly agrees and the river, as well as a German U-Boat create many obstacles for the missionary and alcoholic captain. The African Queen wasn't the irrevocable masterpiece a expected, but nonetheless it is still a very good film. I wasn't blown away by anything that the film did, but it was undeniably entertaining and well constructed, written, directed, and acted. The African Queen is a film that needs to be seen by all film buffs. 
Melvin White
Super Reviewer
The African Queen Quotes
| | |
| --- | --- |
| Charlie Allnut: | Oh, I'm not worried miss. Gave myself up for dead back where we started. |
| | |
| --- | --- |
| Charlie Allnut: | You can't do that! |
| Rose Sayer: | How do you know? You never tried it. |
| Charlie Allnut: | Well yeah, but I never tried shooting myself in the head neither. |
| | |
| --- | --- |
| Charlie Allnut: | Well I ain't sorry for you no more, ya crazy, psalm-singing , skinny old made! |
| Charlie Allnut: | Well I ain't sorry for you no more, ya crazy, psalm-singing, skinny old made! |
| | |
| --- | --- |
| Charlie Allnut: | Leeches ahhhh! |