The Aftermath
(2019)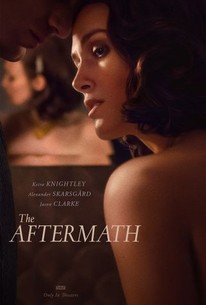 Movie Info
THE AFTERMATH is set in postwar Germany in 1946. Rachael Morgan (Keira Knightley) arrives in the ruins of Hamburg in the bitter winter, to be reunited with her husband Lewis (Jason Clarke), a British colonel charged with rebuilding the shattered city. But as they set off for their new home, Rachael is stunned to discover that Lewis has made an unexpected decision: They will be sharing the grand house with its previous owners, a German widower (Alexander Skarsgård) and his troubled daughter. In this charged atmosphere, enmity and grief give way to passion and betrayal.
Critic Reviews for The Aftermath
Audience Reviews for The Aftermath
I am struggling to come up with something of substance to say about The Aftermath, an adequate drama with decent performances, handsome production design, and a boring love triangle. It's set in the aftermath of World War Two Germany in the Allied-occupied stretch. Jason Clarke plays a British officer stationed in another man's home, a wealthy German local (Alexander Skarsgard) who lost his wife in the war. Clarke's wife (Keira Knightley) is anxious to go home, still processing her grief from losing her child during the war and her relationship with her distant husband seems irreparable. It's only a matter of time before Knightley and Skarsgard find comfort in one another, and they do, almost absurdly quickly. The more interesting story is Clarke trying to keep a fragile peace in the ruins of bombed-out Germany while Nazi sympathetic elements conspire to form an insurgency against the remaining officers. Now that's a movie I would watch. That's a way more intriguing storyline, and one I'm sure chapter after chapter was filled with sprawling, conspiratorial detail in the novel by Rhidian Brook. Alas, we're stuck with a pretty drab love affair between two pretty people. I didn't feel any passion between them; it felt like they were acting by-the-numbers, and ultimately maybe that was what the director had in mind all along. I found my mind drifting away for long interludes, thinking about other movies, thinking about watching other historical dramas. The acting is pretty good all around. Knightley has a standout scene where she breaks down and reveals the full extent of her maternal grief and what it has done to her marriage. The Aftermath will be readily forgotten in its own aftermath, and I don't think too many viewers will mourn. Nate's Grade: C
Nate Zoebl
Super Reviewer
The Aftermath Quotes
There are no approved quotes yet for this movie.