The Amazing Spider-Man
(2012)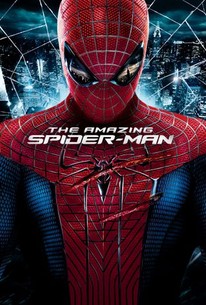 TOMATOMETER
AUDIENCE SCORE
Critic Consensus: A well-chosen cast and sure-handed direction allow The Amazing Spider-Man to thrill, despite revisiting many of the same plot points from 2002's Spider-Man.
The Amazing Spider-Man Videos
The Amazing Spider-Man Photos
Movie Info
The Amazing Spider-Man is the story of Peter Parker (Garfield), an outcast high schooler who was abandoned by his parents as a boy, leaving him to be raised by his Uncle Ben (Sheen) and Aunt May (Field). Like most teenagers, Peter is trying to figure out who he is and how he got to be the person he is today. As Peter discovers a mysterious briefcase that belonged to his father, he begins a quest to understand his parents' disappearance - leading him directly to Oscorp and the lab of Dr. Curt Connors (Ifans), his father's former partner. As Spider-Man is set on a collision course with Connors' alter-ego, The Lizard, Peter will make life-altering choices to use his powers and shape his destiny to become a hero. -- (C) Sony
News & Interviews for The Amazing Spider-Man
Critic Reviews for The Amazing Spider-Man
Audience Reviews for The Amazing Spider-Man
½
It follows the comic much closer unlike the Tobey Maguire film which did take quite a few creative liberties here and there. I think all of the actors all did great serious performances unlike the other films where they did okay but a lot of the delivery was very cheesy and felt kind of forced at points. Andrew Garfield is just perfect as Peter Parker and Rhys Ifans is fantastic as Dr. Curt Connors which was a throwaway in the original 3 films and never really became the Lizard which really pissed me off. I think Martin sheen did a phenomenal job as he usually does, and Emma Stone is very good as Gwen Stacy and makes her more independent and an actual smart woman unlike almost any other superhero film where the girl is just mainly the Damsal in distress. Also the film I think gets down Spiderman much better than the Maguire films did, they made this Spiderman serious but very funny while the Tobey one was mainly kind of comedic and didn't really play it all that serious until the 3rd film. My only real nitpick with this film is the design of the Lizard. Me and my sister agree that we both think that the Lizard looks more like a big slimy wrestler with a tail and too human looking and not enough like an actual reptile like he did in the comics.
Michael Edwards
Super Reviewer
A clumsy copy of that Spider Man movie released only a decade before, taking an infinitude of time to retell the same thing. The 3D (original, not converted) is so useless and poorly done, while the story is ruined by pathetic motivations from both the hero and the cartoonish villain.
Carlos Magalhães
Super Reviewer
½
The AMAZING Spider-Man? well not quite. With the Raimi franchise finished only five years ago in 2007 did we need a reboot of this super hero? in my opinion no we didn't and this film hasn't really changed my mind. One can't deny the impressive new visuals and ideas for this new feature, Spider-Man does look good with new state of the art CGI effects and Spidey POV as he streaks across the night sky. The suit is pretty much the same albeit for some minor cosmetic differences, but Spider-Man's new moves during fights and skyscraper swinging are much more elaborate sexier and closer to the classic motions we all know and love from the comics and those top notch Capcom 2D fighters even! That said I still see no point in this film other than to show off what I just pointed out. Yes Spider-Man looks much slicker as he should five years after the last film but other than that there is nothing new here. I might add its only Spider-Man that looks good in this film, Lizard looks pretty ropy if you ask me. Close ups of his face and eyes especially are pretty nice but when the action kicks in he looks like a dodgy Godzilla with a weird facial design. Obviously trying to look somewhat like the actor Ifans but it doesn't work too well. The plot for Lizard is also kinda loose too really. He wants to turn everyone into lizards hmmm. Wouldn't that kinda make him no longer special? if everyone was the same as him he wouldn't be the strongest being around anymore, more importantly...why do this? On another note, again I realise this is a comicbook adaptation but isn't this plot like something out of a kids Saturday morning cartoon? to be more precise...a TMNT cartoon. A lot of the film is so darn stupid also, OK its a comicbook adaptation but it just seems they have tried too hard, plus trying to squeeze too much into the one film. The origins segments seem to fly past and before you know it he's Spider-Man and everyone is calling him that! There isn't much exploration of his suit creation, he just makes it...just like that! and things happen that are just too daft to make any sense. Parker's first use of his spider powers on the subway home is one example. some guy does something completely pointless whilst Parker sleeps (balances a beer bottle on his forehead?? duh?). He awakes startled and leaps onto the carriage roof, sticking there, he jumps down and accidentally rips off a woman's top with his sticky fingers. Straight away some guys completely forget about the amazing feet they just saw and try to beat him up...as you would do of course. Then of course there is all the obligatory high school fluff where Parker does things slightly out of the ordinary yet no one ever seems to question it. Yes I know its all part of the comicbook lore and gives the film some funny moments but my god its so cliched and ridiculous. Personally I see nothing here that beats the Raimi franchise by any great lengths. Naturally the effects are much better but cast wise I actually prefer Maguire (although Dunst was terrible). Garfield was quite annoying, I found, and didn't have any of the emotion. Probably down to the fact Maguire is a good actor and Garfield is not...whoever he is. I just feel this is all so ridiculous, they could do this every other year, just remake the same film with a pretty new cast and sparkly new effects, slap some gloss on the top and voila! yet another brand new origins remake. The thing is everyone will rush to see it too! (yes I see the irony in myself having seen it but I have a good reason for this...I'm a hypocrite). Its the same as before in a shiny new wrapper people! Hollywood must be rubbing their hands with glee. With the amount of super hero films made and being made there really is no need for remakes/reboots of franchises that aren't very old. There are plenty of really good super hero characters out there Hollywood, lets see some of them get an adaptation, stop churning out the same spiel over and over. Purely by the numbers cookie cutter film making in every sense and offers nothing new. There are some nice fight sequences between Spidey and Lizard yes but that's it, I get the impression that's the only reason they made this, to show off cool fights between cool comicbook characters. Cast aside the only differences are the change in villain and the visuals are prettier, everything else is as you would expect so where's the fun?
Phil Hubbs
Super Reviewer
The Amazing Spider-Man Quotes
| | |
| --- | --- |
| Peter Parker/Spider-Man: | You know in the future if you're gonna steal cars, don't dress like a car thief man. |
| Car Thief: | What are you? You're a cop? |
| Peter Parker/Spider-Man: | Really? You seriously think I'm a cop? |
| | |
| --- | --- |
| Store Clerk: | Stop that guy! |
| Peter Parker/Spider-Man: | Not my policy. |
| | |
| --- | --- |
| The Lizard/Dr. Curt Connors: | Poor Peter Parker. No father. No mother. No uncle. You're all alone. |
| George Stacy: | He's not alone. |
| | |
| --- | --- |
| Peter Parker/Spider-Man: | Oh no. Somebody's been a bad lizard. |