The Amityville Haunting
(2013)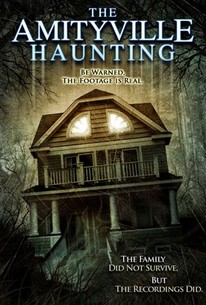 AUDIENCE SCORE
Critic Consensus: No consensus yet.
The Amityville Haunting Photos
Movie Info
With the consent of the Benson family estate, the Amityville Police Department has released the controversial footage of the purported 2008 Amityville haunting. For the first time since the incident, the tapes documenting the horrific killings have been made available to the public.

Critic Reviews for The Amityville Haunting
All Critics (3) | Fresh (0) | Rotten (3)
This found footage movie could have easily been constructed after reading a how-to book titled Paranormal Activity for Dummies.
Cliches abound, as does overkill, while the characters are irritating. And yet, a wound-up tension is impressed without noticing.
I can think of literally not one way in which the film doesn't mostly humiliate itself.
Audience Reviews for The Amityville Haunting
This is one of those films in the found footage genre that has been lost due to the fact that so many films have popped up in recent memory and have made impact. This one on the other hand never did due to several reasons. First off, the series has been stretched out to its limits and has no shred of creativity left in terms of effective storytelling, and that was apparent with other entries in this series as well. Acting wise, everyone here seems lost, and can't act whatsoever. This is a poorly constructed film with no care given to the film's content and it was clear that the filmmakers didn't care about how the finished product would look. This is a painful film to watch and in terms of found footage, this is among the worst films in the genre. I really don't understand why this one was made, as it offers nothing to the genre, aside from bad directing and acting. In the long run, you'll surely forget this one, and it definitely isn't worth your time. Watch something else as this one is just a painful viewing experience that doesn't deliver any scares or thrills. You will surely be bored watching this film, and you'll be disappointed that the film didn't offer anything worthwhile that would warrant a viewing of this dreadful piece of trash. Pass up on this; you'll be glad you did. Director Geoff Meed can't direct a film, and he never should make another film again. The Amityville Haunting offers nothing new to the genre, and it is a mess from start to finish.
The Amityville Haunting Quotes
There are no approved quotes yet for this movie.