The Amityville Horror
(1979)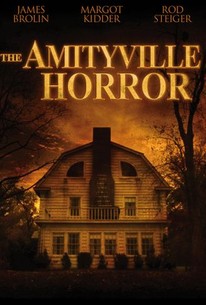 TOMATOMETER
AUDIENCE SCORE
Critic Consensus: Dull and disappointing, the best that can be said for The Amityville Horror is that it set a low bar for its many sequels and remakes.
The Amityville Horror Videos
The Amityville Horror Photos
Movie Info
Supposed true story about George and Kathleen Lutz whose dream house turns into a nightmare. James Brolin and Margot Kidder are the unsuspecting new tenants of a house whose previous occupants had been murdered in their sleep. The Lutzes and their children are menaced by the lingering evil in this frightening ghost story.
News & Interviews for The Amityville Horror
Critic Reviews for The Amityville Horror
Audience Reviews for The Amityville Horror
This incredibly dull horror movie is nothing but an awfully concocted series of bizarre events that have no relation between one another, aiming at the cheap scares without hardly ever being scary and relying on an illogical plot and poorly-developed characters.
Carlos Magalhães
Super Reviewer
[img]http://images.rottentomatoes.com/images/user/icons/icon13.gif[/img]
Directors Cat
Super Reviewer
The Amityville Horror is really the perfect horror film for the horror rookie. I found the film pretty scary, but not too scary. It's not Exorcist scary. The film is pure old school shocks, and the film relies on atmosphere to create its terrifying pacing. The film is slow, but is necessary in establishing effective scares. Based on the "real" life story of how George and Kathleen Lutz bought a haunted house where a member of the previous family murdered his entire family, The Amityville Horror is yes a haunted house film. However the Lutz ordeal is of course bullshit and was conjured up to make a quick buck on the tragic murder that happened in that house. Anyhow, the new family moves in and strange things start to happen. The husband for one acts stranger, and becomes more violent. There are also other weird happening such an ordeal involving a babysitter where she is locked into the closet and is scared to death and that she can't get out. The Amityville Horror is a good haunted house film, but it's far from the best. For my money The Changeling with George C. Scott is a far more superior film. The Amityville Horror is terrifying, but when you read about the real happenings, it definitely makes it less scary. But for what it's worth, this is a film that people that are new to horror should check out. The film has about the right amount of scares to makes this film a not so unpleasant viewing experience to the horror beginner. The Amityville Horror definitely relies on its atmosphere to create the horror and eerie tone of the film. It works in some ways and in others it doesn't. But it does offer some decent enough entertainment, and decent enough scares. A good enough film for seasoned Horror buffs even if it doesn't have that many terrifying moments that one would expect from a film like this. If you want the most terrifying haunted house film, watch The Changeling. But if you want a film with enough decent scares to scare, but not in an Exorcist sort of way, then The Amityville Horror would be a good pick. A good film, even if it's not truly classic, it sure as hell doesn't feel like it.
The Amityville Horror Quotes
| | |
| --- | --- |
| Kathleen Lutz: | You don´t have to prove me anything... |
| Kathleen Lutz: | You don't have to prove me anything... |
| | |
| --- | --- |
| Aunt Helena: | Beurgggghhhhhhhhhhachhhh! (Nun puking) |
| Aunt Helena: | Beurgggghhhhhhhhhhachhhh! [nun puking] |
| | |
| --- | --- |
| George Lutz: | What do you want from us? God damn it, this is MY HOUSE!!!! |
| George Lutz: | What do you want from us? God damn it, this is MY HOUSE! |
| | |
| --- | --- |
| Kathleen Lutz: | (to George) - Don't hurt my babies!! |
| Kathleen Lutz: | (to George) Don't hurt my babies! |