The Arrangement
(1969)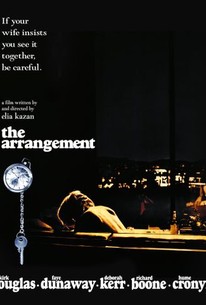 Movie Info
Florence Anderson (Deborah Kerr), the long-suffering wife of advertising executive Eddie (Kirk Douglas), struggles to understand her husband's affair with Gwen (Faye Dunaway). Eddie goes East to tend to his ailing father Sam (Richard Boone), telling his wife he is done with his affair with Gwen. In an awkward scene, both women attend the funeral of Eddie's father. Arthur (Hume Cronyn) is the family attorney who must untangle the legal mess in the wake of Sam's death. There are some light comedy interludes in this uneven drama taken from director Elia Kazan's 1967 novel. Nudity and four-letter words are plentiful.
Critic Reviews for The Arrangement
Audience Reviews for The Arrangement
½
A chaotic but thrilling collage of semi-formed ideas. There are as many moments of inspired acting as there are moments of miscalculation and confusion. Visually wild and very different from most of Kazan's other work.
½
Flat searching for meaning drama with high quality cast ill served by the director and script. Deborah Kerr's role as a doormat of a wife is beneath her. Faye is incredibly beautiful here.
The Arrangement Quotes
There are no approved quotes yet for this movie.