The Art of Getting By
(2011)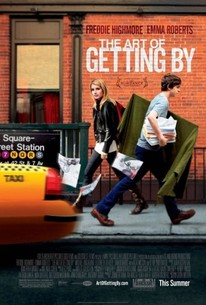 The Art of Getting By Photos
Movie Info
The Art of Getting By stars Freddie Highmore (Finding Neverland, Charlie and the Chocolate Factory) as George, a lonely and fatalistic teen who's made it all the way to his senior year without ever having done a real day of work, who is befriended by Sally (Emma Roberts - Scream 4), a beautiful and complicated girl who recognizes in him a kindred spirit. -- (C) Fox Searchlight
News & Interviews for The Art of Getting By
Critic Reviews for The Art of Getting By
Audience Reviews for The Art of Getting By
"The Art of Getting By" stars Freddie Highmore in the leading role as a very smart loner becomes entangled with his high school crush and begins to slack off in school when he can no longer focus. With themes about the meaning of life, the outlook on the world itself, and how love can find it's way back no matter what, this is a very well-made picture. A very small-budget film with a great script are always my kind of film, seeing as the crew and cast all devote their time to something they believe in. This story works on many levels and the editing style is very unique. The cinematography, mainly the filters used over the lenses for each particular scene, was genius. Although I think the film loses an insane amount of ground when the love interest, played by Emma Roberts, is an extremely unlikable character, going for his friends other than him. The first half is a very enjoyable indie film, but everything good is swallowed up halfway through. The cast is great but the characters are not likeable enough by the end. I really enjoyed the outlooks on life, but the film is kind of a mess otherwise and the conclusion really didn't feel earned.
½
I'm sure a lot of people could care less about this movie and its characters, but I really had a great connection with it. I think it has a lot to say and really breaks free from just telling a story about another slacker. Freddie Highmore has shifted promoted himself from being the greatest child superstar to the greatest teen superstar. He plays emotions like a fiddle and gives a performance that is completely natural and true to the character. He's shy and naive, but at the same time he knows more than everyone else and just hates the idea of it. I thought it was interesting to have a character that wants to want to care, but doesn't know how. I also thought Emma Roberts did a great job and it's probably the best performance she's given so far. In many ways she's the high school crush that a lot of people had, but not in a glamorized way. She has flaws and weaknesses that are apparent throughout the movie. I'm not going to claim that The Art of Getting By doesn't follow a pattern of angsty teen dramas, but its execution and core is definitely unique. What it says within the formula is so honest and unattractive at times that it really just feels like we're seeing two people's lives and not just a movie. The way it's shot definitely helps out with this. You get a really life-like visual structure that doesn't just simply look good, it makes sense. The job was to center around the characters and this definitely succeeds in doing so. Now i'm sure this will be thrown into the typical indie teen movie that it was disguised as, but it really doesn't have any of those odd cliches. There's no penciled in credits, no overly quirky and weird moments, no exaggeration and no overbearing philosophical meaning. This movie is completely fine with being "normal", and I mean that in the best way possible.
Conner Rainwater
Super Reviewer
There's a good film buried somewhere within the poor writing and editing of The Art of Getting By's 80 minute running time, but this isn't it. That's not to say the film doesn't have it's modest charms, but the characters are unlikable and it tries too hard to replicate superior movies and falls flat on an almost scene to scene basis. It's the kind of film that's so smug, you'll be rolling your eyes on the regular... while recognizing that with this likable cast and it's simple coming of age trappings, a good movie was more than possible. THIS movie is too little too late, and will make you wonder why it was made at all.
The Art of Getting By Quotes
| | |
| --- | --- |
| George Zinavoy: | I have no idea what I'm doing here. |
| Dustin: | I dont think anybody does, George. At least you admitt it. |
| | |
| --- | --- |
| George Zinavoy: | we're living in a dying time |
| George Zinavoy: | We're living in a dying time. |
| | |
| --- | --- |
| George Zinavoy: | I'm allergic to hormones |
| George Zinavoy: | I'm allergic to hormones. |
| Sally Howe: | What hormones? |
| George Zinavoy: | Mine |
| George Zinavoy: | Mine. |