The Astro-Zombies
(1968)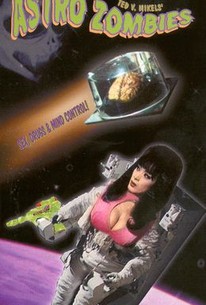 AUDIENCE SCORE
Critic Consensus: No consensus yet.
Movie Info
Dr. DeMarco (John Carradine) is a mad scientist who must engage in bloody murders to develop The Astro-Zombies in his basement laboratory. When too many people end up missing and presumed dead, FBI-agent Holman (Wendell Corey) is called on to investigate. Soon Mexican secret agents and Chinese communists are following Holman and the demented DeMarco and his ghouls around. Not enough science fiction or gore to be classified as a good second-rate feature, this marks the last film appearance of Wendell Corey.
Critic Reviews for The Astro-Zombies
All Critics (4) | Fresh (0) | Rotten (4)
Commits the cardinal sin of being slow and boring on top of being heedlessly bad.
The worst movie ever made? I just might say yes. Yes it is.
There's bad, there's very bad, and there's Astro-Zombie bad.
April 3, 2005 | Rating: 1/5
Audience Reviews for The Astro-Zombies
I bet the editors of this movie never worked again, they did a horrible job, and so did the director and writer. What in the world is an "astro zombie" anyway? We're never even told are we? This movie makes no sense, I hated it.
½
This is such a quality motion picture that it took me three viewings before I got all the way through it without falling asleep. Bad acting, abysmal special effects and a ridiculous monster -- the scene of him running through the streets holding a flashlight to his forehead to recharge his power cell is priceless. John Carradine's scenes seem to have been filmed completely separate from anyone else's in that he never appears with any of the other actors, but rather spends all his time in his laboratory. A load of crap that really needs weird friends and alcohol to be properly appreciated.
The Astro-Zombies Quotes
There are no approved quotes yet for this movie.