The Autopsy of Jane Doe
(2016)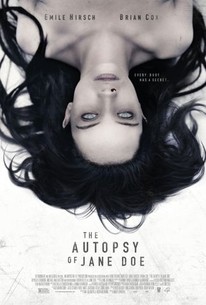 TOMATOMETER
AUDIENCE SCORE
Critic Consensus: The Autopsy of Jane Doe subverts the gruesome expectations triggered by its title to deliver a smart, suggestively creepy thriller that bolsters director André Ovredal's growing reputation.
The Autopsy of Jane Doe Videos
The Autopsy of Jane Doe Photos
Movie Info
It's just another night at the morgue for a father (Brian Cox) and son (Emile Hirsch) team of coroners, until an unidentified, highly unusual corpse comes in. Discovered buried in the basement of the home of a brutally murdered family, the young Jane Doe-eerily well preserved and with no visible signs of trauma-is shrouded in mystery. As they work into the night to piece together the cause of her death, the two men begin to uncover the disturbing secrets of her life. Soon, a series of terrifying events make it clear: this Jane Doe may not be dead. The latest from Trollhunter director Andre Ovredal is a scarily unpredictable, supernatural shocker that never lets up.
News & Interviews for The Autopsy of Jane Doe
Critic Reviews for The Autopsy of Jane Doe
Audience Reviews for The Autopsy of Jane Doe
I really should start writing these reviews earlier. It's now 8:23 pm and, same as yesterday, I haven't had dinner yet. The moment I'm done with this is the moment I'll go and prepare some food. Actually, I was sending a message to a friend and it's now 8:45 pm, so hooray for me. Anyway, I don't know what movie it was, but I mentioned that when I was a wee boy, the first thing I 'wanted to be when I grow up' was a veterinarian. Part of me still feels like my dream job would be that or something involving animals. I'd love to have a shelter for animals if I had the money. For one reason or another, though, in my teen years I moved away from wanting to be a vet. I eventually "settled" on a forensic pathologist. And this was actually something I was seriously considering being. This was during my serial killer phase, when I had many books on serial killers. I also remember watching a lot of those Autopsy specials on HBO with Dr. Michael Baden. I used to love that show. I came to a point, however, where I was (stupidly) playing out scenarios in my mind. I say stupidly because I was thinking about what if I finished up, left at night and some guy that's on trial for murder didn't want me finding out the cause of death and just straight up murdered me. This, of course, is ridiculous. But stranger things have happened, particularly if you're in the mob and you have the connections necessary in order to 'whack' someone. But, really, at around 19 or so, I had a quarter-life crisis and I came face to face with my own mortality for the first time ever, so that probably made me reconsider. Also, being around death and corpses all the time would have taken its toll on me mentally, I just know it would have. And, realistically speaking, I'm sure it does on a good percentage of people who practice this profession. That's neither here nor there, I suppose. We are here to talk about a gem of a movie. And yes, I'm just gonna be straight up with you all here, I thought this was a great horror movie. It's honestly really refreshing while, at the same time, also feeling very much like something I've seen before. I don't mean that in a negative way, but a lot of the horror elements are very familiar to me. But this movie uses its concept expertly. The set-up is as such. This cop finds a crime scene that he cannot explain. There are no signs of forced entry and there are several bloody corpse strewn about this house. They find an unidentified woman buried underneath the house. This is the Jane Doe in question. Jane Doe is taken to this local coroner's office, run by Tommy and Austin, a father and son team, to find the cause of death so he has something to tell the press by the morning. This is where the movie, you could say, really begins. As strange events start occurring once Tommy and Austin cut into Jane to find out how she died. This proves to be a little difficult, given that Jane's body is in relatively pristine condition. I say relatively because, of course, the woman is dead. Her insides, though, are destroyed despite having no outward signs of torture or violence done to her. I don't know why, and perhaps it's just my nostalgic desires to be a forensic pathologist, but I loved everything in the first half of the movie. When it's just Tommy and Austin performing the autopsy. I have no idea why, but there was something about it. Perhaps it's its authenticity. This is obviously a horror movie, but I'm certain that great care was put into researching actual autopsies and how they played out. I'm sure they had someone in the profession guiding them to make the movie as accurate to the real thing as possible. Regardless, I loved it. And this is before the horror really even kicks in. Somehow, when the horror kicks in, the movie is even better. I think one of the things I liked about it was how little bits and pieces of information are given to you at a time. While, obviously, it's not gonna be revealed immediately, there's a certain sense of being rewarding for your patience. I also felt that the movie perfectly balanced the mystery between Jane Doe's cause of death and the horror that Austin and Tommy are being put through. I don't think many horror movies accomplish that as successfully as this one. It's either one or the other, the mystery or the horror. It's not always that one negates the other, but it's segmented. This is this part of the film and that's the other part and never the two shall meet. In this case, however, once services the other and, really, unraveling the mystery of Jane Doe's origin is a joy. I'll be honest, if you had asked me to come up with five endings for what Jane's origin was prior to watching this, I would not have gotten it. Don't wanna say it's a 'shocking' twist ala the Sixth Sense, it's just that I didn't think they were headed there. As if it wasn't obvious by how much I'm gushing about this (and the fact that I mentioned it prior to getting into too much detail), I loved this movie. I just love the tone, the atmosphere, the score is pretty great too (parts of it reminded me of the Outlast score, which is a compliment). Everything works in conjunction to service the main arc. Perhaps the film isn't necessarily scary, at least in my opinion, but everything is so well-constructed and the movie so intelligently written that it still ends up being very effective. It's more creepy than anything else and, really, that can work just as well as scary. Which, again, is also something I mentioned earlier, but it bears repeating. There's also some character development, which explores the dynamics of Austin and Tommy's relationship after the death of Tommy's wife (Austin's mother, naturally). It also helps that Emile Hirsch and Brian Cox are great in their roles. These are two very well-respected actors and they did a great job with their characters. I don't really know what else to say about this movie in all honesty. It's a refreshing take on the horror genre while also, skillfully, giving us everything we could possibly want from it. It's better if you go into this movie blind, because that's a large part of the enjoyment, finding out step by step what's wrong with Jane. This is a great movie and I would highly recommend it, even if you hate horror movies. You'll probably end up hating this anyway, but at least I got you to watch it. Ha! The joke's one you. I loved this, now leave us alone and let us make out in peace. Wait, I'm making out with a movie surrounding a corpse. That's weird. Forget I mentioned anything.
Jesse Ortega
Super Reviewer
A decent (yet irregular) horror movie that relies on a compelling mystery and knows how to slowly build tension (despite a few annoying jump scares), but it is also a bit frustrating to see how it is weakened by clichés and by a silly ending that doesn't really work.
Carlos Magalhães
Super Reviewer
Surprised as to how liked this movie is. A truly unsuspenseful movie with no scares.
Film Crazy
Super Reviewer
The Autopsy of Jane Doe Quotes
There are no approved quotes yet for this movie.