The Babysitter
(2017)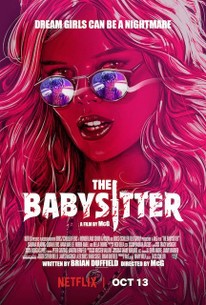 Movie Info
The Babysitter, directed by McG, follows Cole (Judah Lewis), who is madly in love with his babysitter Bee (Samara Weaving). She's cool and awesome in all the ways Cole is not. One evening while Bee is babysitting, Cole witnesses the unthinkable. Now he must survive a night full of first kisses, first broken hearts, and first encounters with homicidal maniacs (played by Bella Thorne, Andrew Bachelor, Robbie Amell, and Hana Mae Lee).
News & Interviews for The Babysitter
Critic Reviews for The Babysitter
Audience Reviews for The Babysitter
½
I may take issue with Samara Weaving, but a fun movie's a fun movie. End of story. I was surprised by how much I enjoyed Robbie Amell in this, who in the past has always disappointed me. Those small praises aside, The Babysitter is not exactly groundbreaking cinema, and while I certainly enjoyed having it on in the background to a certain degree, I didn't get enough from it to say it's outright worth your time.
½
A hilarious gory movie that makes us laugh out loud with its surreal dialogue, bizarre situations and absurd deaths, all that while combining comedy and horror in a very efficient way and benefiting from some good performances by Judah Lewis and Samara Weaving.
Carlos Magalhães
Super Reviewer
½
If you're not someone that can handle random scenes containing excessive blood or can't get in on the joke of the fact that a movie fully embraces its cheese factor on purpose, then I guarantee you'll probably hate your experience watching The Babysitter. With that out of the way, I must say that Netflix's release of The Babysitter was a blast to watch. It's not your generic horror film that goes for jump scares and it's also not to be taken very seriously, which was a breath of fresh air for the genre in my opinion. Yes, horror has been on a nice streak over the past few years, but sometimes a cheesy romp is necessary in order to break the chain. Here is why The Babysitter is worth a watch. Beginning as a self-aware comedy about a young kid and the fact that he finds his babysitter incredibly attractive, this is a movie that has many twists and turns that you won't see coming. Wanting to stay awake past his bed time in order to see what his babysitter does late at night, he witnesses an incredibly graphic murder in his own living room. Having to fend for himself and take down this cult of killers, The Babysitter is relentlessly entertaining from start to finish. The tone of this film is not for everyone though, so I have to caution those with weak stomachs and those who just don't like to see gore. If you're sucked into this wacky film and are willing to let it take you anywhere, then I think you'll have as much fun with it as I did. It's not all sunshine and rainbows though, because there were a few times where it began to lose me, due to its excessiveness. Whether it was the language being thrown at one another or the murders themselves, I found this movie to be a little full of itself in terms of its graphic nature. Yes, it's not to be taken seriously, but it also becomes a little unbelievable, even for the fictional world it's set in. Directed by McG, who has had a very bad track record as of late, I must say has improved with his latest attempt, even though I feel the excessiveness was more than likely what he intended. That may seem like a minor complaint, but it was a looming issue I had throughout the majority. From the very beginning, although the look of this movie feels very clean, the atmosphere itself was very well-done. From smoke filling the ground at night, to a very old and lived-in neighbourhood, I found myself engaged and believing everything that was happening, due to the care in the production design. Sure, there are hundreds of other films that have done this exact same thing better in the past, but why should that take away from deserved praise? The Babysitter was very surprising in terms of making a lot with a little. In the end, The Babysitter isn't going to blow anyone away as a film itself, but I can't deny the sheer fun I had watching this movie. It doesn't take itself too seriously, it embraces its cheese factor, and does a great job with its comedy and keeping the audience engaged with its surprising death sequences. If you're a fan of horror or even comedy for that matter and don't mind gory sequences, then I feel you'll have a good time watching this movie. The Babysitter is now streaming on Netflix and I'll definitely give this one a recommendation.
The Babysitter Quotes
There are no approved quotes yet for this movie.