The Bad Batch
(2017)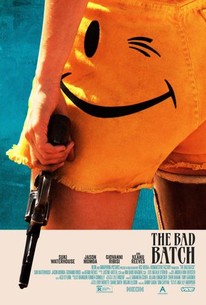 TOMATOMETER
AUDIENCE SCORE
Critic Consensus: The Bad Batch has its moments, but it's too thinly written and self-indulgent to justify its length or compensate for its slow narrative drift.
Movie Info
The aforementioned girl is Arlen, (Suki Waterhouse), one of thousands of Americans deemed unacceptable to society, who is unceremoniously dumped into a hostile desert wasteland fenced off from civilized society. While wandering in her desert exile, she is captured by a savage band of cannibals and quickly realizes she'll have to fight for her very existence in this human-eat-human world. With electrifying visuals, a score to die for and a stellar cast, Amirpour has created another cinematic chapter that is as uncategorizable as her first.
News & Interviews for The Bad Batch
Critic Reviews for The Bad Batch
Audience Reviews for The Bad Batch
In a desert prison, the scum of humanity has either turned to cannibalism or a poor but hedonistic settlement. What could be a pretty wild albeit disgusting adventure is a slow, aimless story of revenge and redemption, with a pointless drug sequence dragging down the middle. A film like a cannibalistic Burning Man Festival in slow motion: superficially great to look at but actually pretty ugly deep down and only bearable when you're on drugs. Only Jim Carrey's mini role is fascinating and the solution surprisingly light-hearted.
Great cinematography and framing. Exceptional acting. But pacing is too slow, like quicksand pace. The Jim Carrey cameo is lightly amusing because of its contrast to the Jim Carrey archetype he developed in the 90s. The graphic cannibalism is pretty extreme if that's something you look for in a post apocalyptic movie. Story is a little boring for this genre, relies heavily on genre conventions without providing any interesting innovation or commentary on it. If you want something action packed, turn away. If you're looking more for a Boy and his Dog, 20 Years After, The Road, or Children of Men vibe, this will do.
_kelly .King
Super Reviewer
The film is just a daring vision of an idea, I look at this film and I get insanely jealous. The director is visually gifted and while the story can be somewhat bleak, the slow beats and character shifts this from anything I have seen this year. Jim Carrey is brilliant in the Hermit role, It took some time to notice him but this shows the range he has to offer. The setup is very grim and that sets the film up for the next 2 hours, this film isn't for everyone so you'll know very quickly if this is for you. I really dug this film, there was a story that hooked me which a lot of film cannot. 03-10-2017.
Brendan O'Connor
Super Reviewer
The Bad Batch Quotes
There are no approved quotes yet for this movie.