The Bag Man
(2014)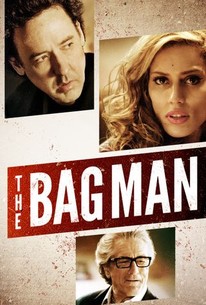 Movie Info
THE BAG MAN is a taut crime thriller that follows the story of JACK (John Cusack), a tough guy with chronic bad luck but human touches. Hired by DRAGNA (Robert De Niro), a legendary crime boss to complete a simple but unusual task, the plot centers around the anticipated arrival of Dragna who has summoned JACK and a host of shady characters to a remote location for unknown reasons. Over the course of a long and violently eventful night awaiting Dragna's arrival, Jack's path crosses that of RIVKA (Rebecca Da Costa), a stunningly beautiful woman whose life becomes physically and emotionally entangled with Jack's. When Dragna finally arrives on the scene there are sudden and extreme consequences for all. (c) Cinedigm
News & Interviews for The Bag Man
Critic Reviews for The Bag Man
Audience Reviews for The Bag Man
½
A dark, sharp and twisty thriller that's engaging, enjoyable and actually very entertaining with strange and shady characters, suspense and surprises. It's darkly funny, attractive and at times repulsive in its mood and attitude and has some very good dialogue. A consistently moving and tense thriller that's intense and exciting. John Cusack is excellent, it's always great to see him play an extremely different type of character that is out of his usual comfort zone and clearly shows he still loves his job. Rebecca Da Costa is such a gorgeous and refreshing face and looks to be fairly promising. Robert De Niro is brilliant, he looks like he's having a blast playing a bad guy and trying out some new looks. Dominic Purcell is terrific. A stylish, dark and gripping film noir that echos of Quentin Tarantino and Alfred Hitchcock.
½
Maybe you lead a dull existence, eh? Maybe you need a little spice, yah? Maybe seeing people die is just the thing you need? Maybe you want it even? That would be more honest, anyway, wouldn't it? Well there's plenty of killing here in this thriller about a man holding a bag. What's in the bag? Wait for it ... wait for it ... uhhh, its not that interesting in any case. Anyway, not bad for noir. Some little stupid stuff, but don't let that keep you from enjoying this juiced up formula thriller.
Kevin M. Williams
Super Reviewer
Formulaic gangster film that wastes a good cast, The Bag Man will surely leave genre fans disappointed by its lacking script, recycled ideas and underwhelming story. This film should have been much better than what it turned out to be, and in the end, it simply wastes some good cast members on a lazy written script that just doesn't deliver what you'd expect from a well executed gangster film. This is a pure waste of time, and it's a boring film that doesn't seem to have any redeeming qualities. This film was riddled with genre clichés, and instead of trying to do something new and exciting with the formula, director David Grovic executes a film that just doesn't display anything that is worth seeing. The biggest problem with the film is that due to a lacking script, the film never becomes anything good or worthwhile. The Bag Man is a boring movie that is a train wreck due to the fact that its cast on a story that we've seen many times before. Add to that, that the dialogue is a cheaply done Tarantino knock off, and by doing so it tries way too hard at being a "smart" crime film, and it ends up just being a folly. Don't expect much from this film, you'll surely be disappointed, and it never is entertaining and exciting. The Bag Man plays out like a B movie with big name actors, and it fails to really stand out due to its clichéd storyline. If given a complete rewrite, then maybe this film would have succeeds, as there were a few interesting ideas that popped up here and there, but they are lost in the river of bad writing, and boring performances. The Bag Man is yet another bad film that isn't worth seeing, even by die hard crime film fans.
The Bag Man Quotes
There are no approved quotes yet for this movie.