The Baker
(2007)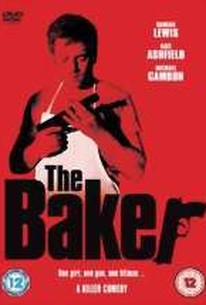 Movie Info
Professional hit man Milo (Damian Lewis) flees the city after failing to carry out a contract, and gets mistaken for a baker while hiding out in the country. But just as Milo begins to embrace his leisurely new lifestyle and strike up a romance with local veterinarian Rhiannon (Kate Ashfield), his secret gets out, and the locals start asking for much more than specialty cakes. ~ Jason Buchanan, Rovi
Critic Reviews for The Baker
Audience Reviews for The Baker
I'm sure you've all heard of a one-hit wonder at one point in your life. I'm more familiar with old-school one-hit wonders, since I don't really care to keep up with modern mainstream music. When it comes to one-hit wonders, the one that always comes to mind is The Proclaimers' 500 Miles. You know the one. Come On Eileen (a fucking great song) by Dexy's Midnight Runners is another one. The point I'm trying to make is that one-hit wonders come and go. They leave almost as quickly as they went, back to obscurity or back to playing the same song over and over again because it's their only major hit. The point I'm trying to make that, unlike one-hit wonders, because the movie might not have even been a hit anywhere, there are some movies that just come and go without really making any sort of impression one way or the other. And this is one of those movies for sure. Don't get me wrong, at least to me, there is nothing inherently wrong with this movie It's an amiable British comedy, at best, about a hit man, being fed up of his job, running away to this little village where people believe he's a baker. Eventually, though, the entire town, after finding his gun, figures out that he's an assassin. The problem is that Milo (the hitman) is never made aware of this. So when the townspeople actually go and order cakes or what have you, they think they're actually ordering hits out on other townspeople. Milo is baking earnestly, he truly enjoys it and believes the people really did need his services as a baker and nothing else. Not to mention the fact that one of Milo's former colleagues (who's also in love with him) is after him to assassinate him. The set-up is really silly and sitcom-y, no surprise there. But the film is relatively well-cast and they're clearly game for what the script offered. If there's anything I liked about the movie is the fact that the casting was fairly solid all things considered. No one really stands out as far as memorable characters. Maybe the owner of the fish shop would be, easily, the most memorable. And he doesn't really even do that much, but he gave me a few chuckles. The problem with the film is the fact that it literally comes and goes, blink and you missed it. That's obviously a bit of an exaggeration, but the film is so lacking in depth that you have to wonder why it existed in the first place. Again, I never thought it was a bad movie. But the characters are poorly developed. They hope that by having the town be full of eccentric people would make up for the fact that there's no real story to speak of here. Things happen and they don't really make an impact or really stick. The film feels more like a series of half-cooked skits without a real narrative thread holding them together. The pacing completely hurts with this, because they move on from shtick to shtick to shtick without taking the time to truly give you some time to breathe. That's why the film is more watchable than it would have been otherwise, they don't stick with a scene long enough to make you think how truly undeveloped it actually is. And that's a shame. Not that there's potential with telling a story from a unique point of view, but there's potential here for a fairly entertaining movie if they spent more time than just, say, minutes in setting everything up. This is a script that, to me, never felt like it made out of the first draft stage. And it shows in the final product. And don't even get me started on the final fight between Milo and his former colleague, Bjorn. Talk about laughable. For people who are supposed to be trained assassins, capable of taking anyone out from any possible angle, these two sure as shitty at hand-to-hand combat. They use quick cuts to hide this, but you can tell that these two are really bad. They're clearly not Iko Uwais or Yayan Ruhian, that's for damn sure. With that said, this movie really misses the mark quite badly. Not a bad movie, for sure, but one that lacks real personality and consistent comedy to truly stand out above the pack. I wouldn't recommend this, but if you're in the mood for something silly that's over in less time than it takes to cook microwaveable popcorn, then this is your movie.
Jesse Ortega
Super Reviewer
A really good idea that needed more time in development. I felt it was suitable to a short rather than a feature so there was a lot of dead space where they hadn't thought of anything decent to put in it. It was good, and had some really good moments but it's not worthy of being called a feature.
Sophie Burgess
Super Reviewer
½
This movie is also called Assassin in Love..........The English do this sort of thing right. Great quirky characters, the kind you'll never see in an American movie. I loved it for the same reasons I loved Death at a Funeral (the english version directed by Frank Oz of all people) If you like this kind of offbeat stuff, you'll love this. Fantastic fun movie!!
Cynthia S.
Super Reviewer
The Baker Quotes
There are no approved quotes yet for this movie.