The Barrens
(2012)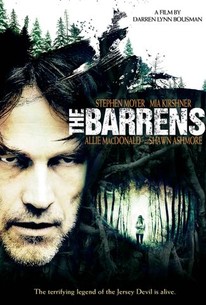 AUDIENCE SCORE
Critic Consensus: No consensus yet.
Movie Info
It's known as the Jersey Devil, the winged beast spawned 400 years ago by Satan himself. Some say this creature still inhabits the dense pine forests of southern New Jersey, where Richard Vineyard (Moyer) takes his family for a rustic weekend camping trip. As the Vineyard family ventures further into the woods in search of the perfect campsite, Richard teeters on the edge of sanity. Welcome to a new kind of horror that lives - and kills - in a place called The Barrens. -- (C) Anchor
Critic Reviews for The Barrens
Audience Reviews for The Barrens
½
An (at least fractionally) complex horror story based on a cryptid I'm familiar with, but have never seen put to screen before. Cast's not great ,but not worth complaining about either. The central creep is held in reserve, almost certainly for monetary reasons, but it works in The Barrens' favour. I won't be revisiting this Jersey Devil horror, but I did have an okay time with it.
Stephen Moyer(Bill from "True Blood") stars here as a father who wants to go on a family camping trip in New Jersey to spread his fathers ashes, and hopefully get closer to his family as they continue to grow apart. When they arrive at the woods weird things begin to happen, and he becomes distant and psychotic. Is it him? Or is it the New Jersey Devil, a bigfoot like myth that may or may not be true. Part psychological thriller and part monster movie, "The Barrens" is entertaining, yet not a very good movie either. It has it's moments, and I'd say it has more going for it than against, but something about it just didn't click with me. "The Devil" looks neat, but I've seen much better creatures in these type of movies. The acting is just OK, and the gore is good, but it never had me fully engaged like this movie hopes the viewer to be. If your into horror, then give it a chance because it may work more for you than me. Otherwise, I'd say just find something else at Redbox(where I got it), because there is a lot better out there.
Everett Johnson
Super Reviewer
½
Unlike everyone else I've talked to that has seen The Barrens, I enjoyed most of it and the ending could have been much worse. For a B-movie, it's not bad at all. The film follows a family as they camp throughout the Jersey Barrens for a family weekend away. The family quickly runs into what the dad thinks is the Jersey Devil, a famous legend supposedly living in the barrens. The rest of the family thinks the dad is hallucinating, but he is convinced the Devil is really hunting them. When the Jersey Devil is actually shown, it looks surprisingly great; I also loved the campfire scene where the kid was explaining the story of how the Jersey Devil came to be a legend. The Barrens was only brought to my attention because I live in New Jersey and have always been interested in its folklore. Luckily, The Barrens could have been much worse and turns out to be one of the better B-movies around. Final score: 6.5.
Kevin Mozulay
Super Reviewer