The Bay
(2012)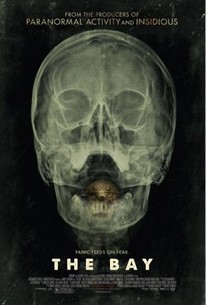 TOMATOMETER
AUDIENCE SCORE
Critic Consensus: Barry Levinson's eco-horror flick cleverly utilizes familiar found-footage methods in service of a gruesome yet atmospheric chiller.
Movie Info
Two million fish washed ashore. One thousand blackbirds dropped from the sky. On July 4, 2009 a deadly menace swept through the quaint seaside town of Claridge, Maryland, but the harrowing story of what happened that Independence Day has never been told - until now. The authorities believed they had buried the truth about the tragedy that claimed over 700 human lives. Now, three years later, a reporter has emerged with footage revealing the cover-up and an unimaginable killer: a mysterious parasitic outbreak. Told from the perspective of those who were there and saw what happened, The Bay unfolds over 24 hours though people's iPhones, Androids, 911 calls, web cams, and whatever else could be used to document the nightmare in Claridge. -- (C) Official Site
News & Interviews for The Bay
Critic Reviews for The Bay
Audience Reviews for The Bay
½
The Bay is a message hidden within a film, similar to 2008's the Happening, The Bay tells of the consequences of destroying our environment. In this film, dumping into the Chesapeake Bay has caused a harmless fish parasite to evolve into a human killer. What makes this film unique is the way in which it was shot. The film is shot as a documentary that was posted on a fictional Wikileaks type site, and tells the story of the outbreak in a small Maryland town, on July 4th. The cinematography is made up of everything you'd see at a small town festival, camcorders, cell phone cameras, news footage, police dash-cams, and security cameras. Through a collection of footage from the day, we are told the story of the outbreak by one of the only survivors, who had to let the world know of this tragedy that was covered up by the U.S. government. The different angles and the fact that their really weren't any main characters also make this film unique. The story really isn't much, as it just like a million other horror films. Everything is normal, until people start getting sick, and chaos ensues. It's not the story or even the actors that keep you interested in this film, it's the different pieces put together in documentary form by the narrator, Kether Donohue. Without the narration, it's just a collection of web clips, but there is some interest in finding out what happened to each of the people we see and in seeing them figure out what's going on at the same time that we do. It's not a great story and there aren't any stand out performances, but the film itself is done in such a unique way, that it will be like nothing you've ever seen before. Yes, The Bay is another way of telling us about the dangers of not caring for our environment, in a story that is severely lacking imagination, but it's worth seeing, simply from a stylistic point of view.
Todd Smith
Super Reviewer
MisterYoda ?
Super Reviewer
Great idea for a horror film, but it lacks originality and real scares. The Bay is yet another documentary style horror film that we've seen many times before. The film is mediocre and lacks anything really engaging. The problem with this genre is that it's over done. Filmmakers tend to recycle the same formula and in turn the material on-screen suffers significantly in terms of telling something that is supposed to be truly suspenseful and terrifying. The found footage genre is overdone and pointless. The last good film in this horror genre was V/H/S, and in my opinion, they should have ended that genre with that film. The problem with The Bay is that it is a predictable film and you know how it will turn out. There simply isn't anything worthwhile here to make it a truly good horror yarn. I really wanted to enjoy, unfortunately, this was yet another unsatisfying found footage film that is clichéd and scare free. This film was produced by the same guys who created the Paranormal Activity films, and though the first three films in that series were genuinely scary, the formula that the filmmakers keep using becomes tiresome and all too predictable. There's only so much you can do with this formula before it becomes boring. The formula worked well with Paranormal Activity and other films. However with The Bay, it just doesn't deliver and it is a bland affair with no genuine scares and in turn it becomes a tiresome, dull horror film that just doesn't terrify. I really expected a great film with this one; unfortunately it is a mediocre horror film that will disappoint you if you're looking for something fresh to watch. The Bay contains scenes that we've seen many times before and it ventures into old territory that simply isn't interesting due to a lacking script that relies on a clichéd idea that cheats the audience. Stick with the older found footage film as they're far better than this.
The Bay Quotes
There are no approved quotes yet for this movie.