The Beach Bum
(2019)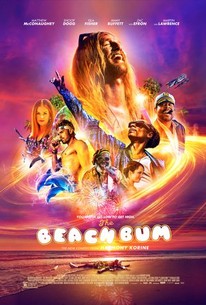 TOMATOMETER
AUDIENCE SCORE
Critic Consensus: The role of a lifetime for Matthew McConaughey, The Beach Bum is set apart by Harmony Korine's distinctive style, but that isn't always enough to offset the unfocused story.
Movie Info
THE BEACH BUM follows the hilarious misadventures of Moondog (Matthew McConaughey), a rebellious rogue who always lives life by his own rules. Co-starring Snoop Dog, Zac Efron, and Isla Fisher, THE BEACH BUM is a refreshingly original and subversive new comedy from director Harmony Korine (Kids, Spring Breakers).
Critic Reviews for The Beach Bum
Audience Reviews for The Beach Bum
The Beach Bum is my shit. Layers of idiocy, trash, chemicals, undulating bodies, and pure, unfettered joy. I understand if you aren't up for the debauchery, but John Waters would be proud. You may be like one of those people up north of the beach, toiling away in the safe confines of your habituation, annoyed at anyone who disturbs your peaceful boredom, and sneering at any sort of immodesty. I'm kind of like that too. After all, I judge everything with my nose turned up looking out the window of my own insulated little world. And my world is insulated because I'm not rich enough to completely disregard my responsibilities to the rest of my small reality, to free myself and explore it in all of its bizarre splendor. Excuses, excuses - thankfully, there's wish fulfillment for that. Would you go to see a movie about pot-smoking, bongo-playing, half-nude Matthew McConaughey playing a half-nude, pot-smoking, bongo-playing celebrity? It hearkens back to the roots of theater to gape in awe at the petty machinations of the aristocracy writhing in idle wealth. In that sense director Harmony Korine has finally hit a primal nerve in the cinematic experience, one that he's only toyed with in his previous efforts. Spring Breakers, the genetic precursor to this and a divisive masterpiece in its own right managed to encapsulate the grotesque, manic world of the privileged upper middle-class youth. Bored with morality, they enact the fantastic world of extremes promised by late 90s pop and hip-hop songs. It's not a cautionary tale so much as it is an exercise in hedonism, but The Beach Bum is hedonism as an ethos at its fullest fruition. At the risk of sounding like a Marxist, this movie is a cautionary tale of unchecked capitalism. Every moment revels in the luxuries afforded to those who are so steeped in their own material advantage that they are oblivious to consequences of their actions - and they are constantly rewarded for doing so! Moondog (McConaughey) parties to the limits of his being, high on a mediocre poetry career that somehow proves to be visionary despite how inane and puerile it is in substance. His life is a parable to prove that you must "fake it 'til you make it" yet he has forgotten that it was fake in the first place. Doesn't that make it the realest of all? *wink* Even in the face of a life-changing tragedy that sets into motion his need to write the "Next Great American Novel", his main priority remains his liquid wealth and the transient thrills it will afford him. But Korine plays it so straight, demanding that McConaughey always remain relatable and a bastion of the American dream in all of his basest desires. If hedonism is the new morality, the clear virtue of the film is good vibes. What could play out as a very self-serious social critique ends up as a hodge-podge of Cheech and Chong stoner comedy on a VH1 "Behind the Music" redemption arc. It's so tongue-in-cheek that it comes off in earnest, and the movie makes itself available to multiple moods and readings depending on who you are. Like Spring Breakers it will piss off anyone who tries to take it at face value. Even in the modest crowd I was with, one comprised of multiple age demographics, there was a lot of laughter: incredulity, shock, punchlines, and just plain happiness, and the best part was that I was laughing harder than I have in public for a loooong time. God bless you, Moondog. Y'know Jesus was the original sinner.
K Nife Churchkey
Super Reviewer
The Beach Bum Quotes
There are no approved quotes yet for this movie.