The Bear
(1989)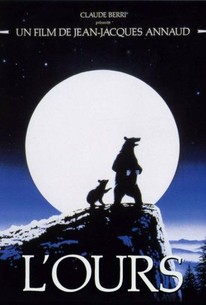 Movie Info
Acclaimed account of an orphaned grizzly cub and a wounded Kodiak bear that join forces in their struggle for survival in 1885 Canada.
Critic Reviews for The Bear
Audience Reviews for The Bear
½
"The Bear" is the only movie I've ever seen of its kind. It's the story of a little orphaned bear and a wounded Kodiak bear who become friends and try to elude a couple of bear hunters. Along the way, the bears' friendship will grow stronger and they will face dangers other than from the hunters, such as a mountain lion, dogs, and swift waters. "The Bear" is a great movie to watch, especially one to watch with the family. The bears are real bears, so they don't talk where you can understand them, but you can understand them perfectly by their actions and gestures. It's an exciting adventure with the bears. The movie has great photography with all the closeups and the footage of the animals. It also has great scenery because the movie was filmed in the Alps. If you like animals, I recommend getting "The Bear." It'll be a movie that you will never forget and that you will want to watch again and again for many years to come. There needs to be more movies like "The Bear." NOTE: That was my Amazon review from the year 2000. This is no longer the only movie of its type I've seen, well maybe it still is. Started to say "March of the Penguins" is reminiscent of it but not really - great stuff here!
Jason Owens
Super Reviewer
Great production, which really cares about animals as the movie portrays them in a light that only an animal lover would. I should know because I love animals, the score is perfect and the closing scene is nothing but heart warming and fulfilling. All people who like animals have to see it.
Constanza Boutter
Super Reviewer
A meticulously rejuvenating film,not so much for the tutoring progress (a bear in need for instance),the guidance of this project keeps a succumbing passion of emotions,marvelous cuddles,a child's movie outside Hollywood's brainwashing fishy smell...
Dimitris Springer
Super Reviewer
The Bear Quotes
There are no approved quotes yet for this movie.