The Beautiful Person (La Belle Personne)
(2008)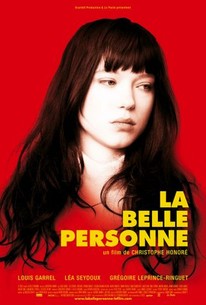 The Beautiful Person (La Belle Personne) Photos
Movie Info
In the wake of screen adaptations by such acclaimed filmmakers as Andrzej Zulawski and Manoel de Oliveira, director Christophe Honoré updates Madame de Lafayette's novel La Princesse de Clèves while placing the story in a contemporary setting. Junie (Léa Seydoux) is new in Paris, and there isn't a man in the city that hasn't noticed. Chief among her admirers are teacher Nemours (Louis Garrel) and gauche fellow student Otto (Grégoire Leprince-Ringuet). As passions flare, it becomes readily apparent that Nemours maintains a rather liberal approach to student-teacher relationships.
Critic Reviews for The Beautiful Person (La Belle Personne)
Audience Reviews for The Beautiful Person (La Belle Personne)
½
Christophe Honoré is like a film student who doesn't have any idea of what he wants to say (that is, if he does have anything to say at all) and so creates an unfocused, pretentious narrative that has no sense of purpose and is full of poorly-developed characters and clichéd dialogue.
Carlos Magalhães
Super Reviewer
In "The Beautiful Person," Junie's(Lea Seydoux) mother has just died, causing her to move in with her cousin Matthias(Estaban Carvajal-Alegria). She also changes schools as part of the process. Even before all of the introductions have been made, Otto(Gregoire Leprince-Ringuet) declares his love to her. She instantly returns his feelings and then ignores him, not being able to make up her mind with everything happening so quickly. If you think that's a lot to handle, then there is Nemours(Louis Garrel), their Italian teacher, who is worried about news about his relationship to Florence(Valerie Lang), another teacher, from getting out. "The Beautiful Person" definitely has a few things in its favor in its understated study of relationships and dating, and how the two should never meet. Like, I've said before, friends are great; cliques are not, as they do not give anybody any room to breathe or to find themselves, which Junie is desperately trying to do. To help this, the movie has a claustrophobic feel that extends beyond the borders of the school where the students have no privacy. And if only Christophe Honore, once a promising director, was maturing like we hope these characters one day will, then we might have truly had something here. In reality, he does little to develop this loosely structured story or his own voice to deliver anything distinctive again. And yes, there is singing.
Beautifully realized film about a 16 year old girl who changes schools after the death of her mother, and finds herself the object of affection for two men, a shy fellow student and a womanizing teacher not too much older than the students, who thinks he has finally fallen in love. Perfectly captures love in a high school setting, with its fleeting nature and overlapping desires.
Matthew Lucas
Super Reviewer
The Beautiful Person (La Belle Personne) Quotes
There are no approved quotes yet for this movie.