The Beguiled
(2017)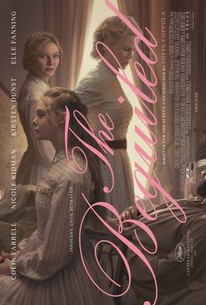 TOMATOMETER
AUDIENCE SCORE
Critic Consensus: The Beguiled adds just enough extra depth to its source material to set itself apart, and director Sofia Coppola's restrained touch is enlivened by strong performances from the cast.
Movie Info
"The Beguiled" is an atmospheric thriller from acclaimed writer/director Sofia Coppola. The story unfolds during the Civil War, at a Southern girls' boarding school. Its sheltered young women take in an injured enemy soldier. As they provide refuge and tend to his wounds, the house is taken over with sexual tension and dangerous rivalries, and taboos are broken in an unexpected turn of events.
News & Interviews for The Beguiled
Critic Reviews for The Beguiled
Audience Reviews for The Beguiled
Slow start, but does pick up by the end. Quite a dark little story. Really not a fan of Colin Farrell, though, especially combined with Nicole Kidman here - both kind of washy. It was worth watching, though I think once is enough.
Nicki Marie
Super Reviewer
Sofia Coppola gives this reboot a woman's touch in that extra emphasis is given to how the women, after taking in a wounded soldier, all convey in their own ways their desire for desire. Dirty Southern faded opulence at its dirty Southern faded best. All the cast is up to the game as well. This is a pretty damn good retool of the first outing.
Kevin M. Williams
Super Reviewer
Sofia Coppola reworks "The Beguiled" into a densely atmospheric slow-burn; a Southern-Gothic mood piece of expertly ratcheted tension and an absolutely wondrous, ominous sense of place. The technical side of this film is brilliant and is among Coppola's most accomplished works to date. Equally accomplished is the performances which are uniformly excellent. Colin Farrell, Nicole Kidman, and Kirsten Dunst shine alongside a wealth of young performers delivering work well beyond their years. I appreciate how well "The Beguiled" functions as a sort of multifaceted entertainment. I think it fully succeeds as a surface-level yarn (albeit one with an ending that can be met with mutters of "what was the point," which is exactly what happened at my screening) but can also be viewed and interpreted in a myriad ways. Whether you absorb Coppola's film as a feminist allegory, anti-feminist allegory, or any other, it never feels condescending or comes off as anything less than authentic. "The Beguiled" is one of the best films of the year.
The Beguiled Quotes
There are no approved quotes yet for this movie.