The Believer
(2002)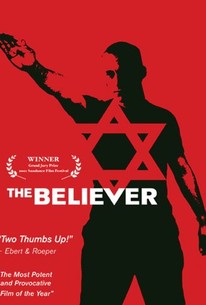 Movie Info
A highly charged drama centering on a Jewish Nazi and based upon a real-life tale, this film by Henry Bean looks at young Danny Balint (Ryan Gosling), a former yeshiva student with a thorough knowledge of the Torah who is first seen as an angry skinhead roaming the streets of New York City. Danny has found allies in the home of Lina Moebius (Theresa Russell), where fascist leader Curtis Zampf (Billy Zane) has been speaking, and he begins to become part of their circle, including romancing Lina's troubled daughter Carla (Summer Phoenix). After a fight in a kosher deli, Danny and his skinhead pals are sentenced to sensitivity sessions with elderly Holocaust survivors, and though Danny is angered by their passivity, their stories haunt him. When the bombing of a synagogue is proposed, Danny is shocked to learn that he cares somewhat for this history that he has been ignoring. Living a more peaceful Jewish existence by day and a hate-fueled skinhead life at night, Danny is conflicted by his upbringing and the desire to question it. The Believer was the Grand Jury Prize winner at the 2001 Sundance Film Festival.
News & Interviews for The Believer
Critic Reviews for The Believer
Audience Reviews for The Believer
½
Three years previous to this, director Tony Kaye and star Edward Norton addressed white supremicist racism in "American History X". This shares similiar themes but focuses more on the hatred toward Jews. The real similarity between the films though are blisteringly powerful performances from both lead actors. Daniel Balint (Ryan Gosling) is a yeshiva-educated young Jewish man in New York who rejects his heritage and chooses to become a neo-Nazi skinhead. His passion is frighteningly real which leads to looming dangers for himself and his community. The comparisons are inevitable and although both powerful and controversial films in their own right, with "American History X" and "The Believer" it's the tour-de-force performances from Edward Norton and Ryan Gosling that really take centre stage. Gosling is no less effective than Norton's Oscar nominated turn and after seeing this, it's getting to the stage that it seems there's no limits to his acting range. He is this film. Don't get me wrong, writer/director Henry Bean crafts some strong and intelligent dialogue, but it's Gosling's delivery of anti-semitic vitriol that packs the real power. The problems it faces are having a less than par supporting cast and a made for television budget. The flaws show but it's still a savage examination of anti-semitism and one worthy of attention. A brave film anchored by a bold and brave performance. It's easy to see why this put Ryan Gosling on the map, he delivers a ferocious piece of work.
Mark Walker
Super Reviewer
½
Ryan shines as an actor. Without the cliches like the tight jawed, no make up wearing woman with the pulled back hair trying to control an activist movement and the whore that is capable of love; this movie had more potential that was lost. This was one of Ryan Gosling's earliest standout roles and knowing he started on "The Mickey Mouse Club" and has not had formal acting training shows an actor that chooses jobs that challenge him verses makes him money (although I am sure he has plenty money also).
Thomas Johnston
Super Reviewer
The Believer is a tale of hypocrocy and confusion. Whilst Gosling plays his role well, the storyline (although worthy of telling) isn?t told in the best way possible. As there are many neo/nazi style films that have been told quite powerfully and realistically this doesn?t quite measure up for me, but still makes an eye-opening watch.
Lady D'arbanville
Super Reviewer
The Believer Quotes
| | |
| --- | --- |
| Curtis Zampf: | The soul of this country is being destroyed, and the only thing the present government can offer us is free trade, mutual funds, and IPOs. The average man is crushed less by accumulated wealth, than lack of leadership, lack of community, culture, and a sense of emptiness he simply cannot fill on his own. That's why I'm a fascist. |