The Berlin File
(2013)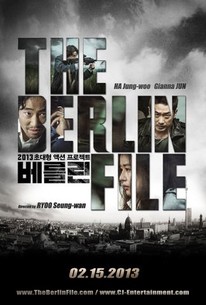 Movie Info
A tense illegal arms deal in a Berlin hotel suddenly descends into mayhem after a "ghost" agent named Jong-seong (HA Jung-woo) appears on the scene. Secretly watching the deal go down is embattled South Korean intelligence chief Jin-soo (HAN Suk-Kyu), the North Koreans and the US CIA, who are all left trying to decode whether the ghost is a double-agent or taking the fall for a more insidious plot. Myung-soo (RYOO Seung-bum) a young, notorious North Korean agent jumps into these treacherous waters to investigate loyalties of all involved and begins to implicate Jong-seong's wife, Jung-hee (Gianna JUN), a translator at the North Korean embassy in the German capital. Caught between his love of country and his wife, Jong-Seong must quickly prepare to make the ultimate sacrifice. (c) CJ
Critic Reviews for The Berlin File
Audience Reviews for The Berlin File
½
Ryoo Seung-wan pulls out the agents and crosses them in The Berlin File.
Running nearly 2 hours, there is more than enough to follow when it comes to the story. While the pacing of the film isn't necessarily fast, plot details come and go often enough to easily throw things into a bin of shredded paper. In short, the story requires attention to grasp, especially in the first half. Fortunately, things become clearer by the film's final act.
The action is nicely done with the highlight happening at the end. It is a good mixture of realism and stylization.
Jung-woo Ha, Suk-kyu Han, and Ryoo Seung-Bum share the screen as the three major leads. Gianna Jun, as eye catching as she is, ends up overshadowed by the other three.
The Berlin File agreeably fits into the action crime thriller genre and is therefore a recommendable Korean picture.
The Berlin File Quotes
There are no approved quotes yet for this movie.