The Best Man
(1999)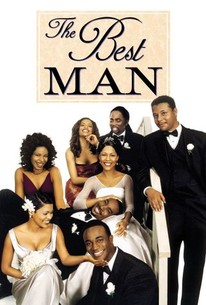 TOMATOMETER
AUDIENCE SCORE
Critic Consensus: With a strong cast and a host of well-defined characters, The Best Man is an intelligent, funny romantic comedy that marks an impressive debut for writer/director Malcolm D. Lee.
Movie Info
In this romantic comedy, a writer finds out the hard way about the consequences of walking a fine line between fiction and real life. Harper (Taye Diggs) is an author whose first novel is soon to be published, just as he's been asked to be Best Man at the wedding of his friends Lance (Morris Chestnut) and Mia (Monica Calhoun). Harper is suffering a worse case of publication-day jitters than most authors, and with good reason: much of his book has been drawn from real life, and he's afraid that his friends and family will spot the sometimes unflattering literary versions of themselves. What's worse, Mia and Harper had a fling years ago, and their affair made it into the book; Lance doesn't know, and Harper would just as soon he didn't find out before the wedding. But one of the bridesmaids, Jordan (Nia Long), has gotten hold of an advance copy of the book. Since Jordan works as a television journalist and devotes her life to digging up dirt on people, Harper is convinced that she'll spill the beans and spoil his friends' big day. The Best Man was the debut film for writer/director Malcolm D. Lee; Spike Lee served as producer. ~ Mark Deming, Rovi
Critic Reviews for The Best Man
Audience Reviews for The Best Man
Great characters that are instantly identifiable and who many can relate to combine with great direction to tell a story of how friendship can transpire over many years. Funny at times but ultimately a positive and strong message keeps you watching and check out the sequel too.
Ian Walker
Super Reviewer
So last week I got a copy of "Best Man's Holiday". Sat down with my wife to watch it and realized, that I didn't remember anything from the first one. Actually, don't think I had ever seen it. So we stopped the dvd, and found the first one on M-GO and started watching it. First, it's amazing at how all the actors look so young. Second, this is a horrible movie that doesn't stand the test of time. Maybe in 1999 when it came out it was a good movie. But today, after countless other movies just like it, that are much better(looking at you Tyler Perry), this is a waste of time. I was bored, fell asleep and forced myself to finish it(it wasn't easy). I like the entire cast. Taye Diggs, Morris Chestnut, Terrence Howard, Nia Long, are all great. But in this they are all still very green and hadn't hit their stride yet. Now I know, that's not fair because it's 15 years later, but it's true. Maybe if I had watched this when it came out I would remember it as a classic that launched careers. But watching it now, it's just another bad comedy dominated by an African American cast. Everything about it is generic and unfunny. Emily fell asleep and I laughed maybe one time. Again, if you're a long time fan, cool! But if you're not, then this is a bad movie to revisit. I took back my copy of "Holiday" without watching it, but do plan to eventually. I'm sure it's better, because I doubt it could be more worse.
Everett Johnson
Super Reviewer
Taye Diggs is Harper Stewart, a struggling actor who flies to New York to be the best man of his college buddy's wedding and just completed a novel called "Unfinished Business." The book contains characters loosely based on his friends from college and mentions that at one point he slept with the bride to be. Can he stop people recognizing the thinly veiled truth as he prepares to be the best man at his best friend's funeral or will past betrayals finally be brought to the surface at the most unfortunate of times? This is a story of love, lust, imperfection and redemption and "becoming the best man that you can be."
The Best Man Quotes
There are no approved quotes yet for this movie.