The Best Offer
(2014)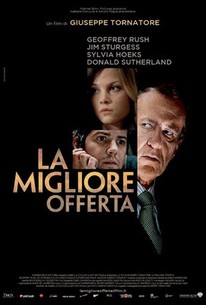 Movie Info
Virgil Oldman is a solitary, cultured man whose reluctance to engage with others, especially women, is matched only by the dogged obsessiveness with which he practices his profession of antiques dealer. He's never been close to another human being, not even Robert, his only friend - a young, skillful restorer of mechanical devices from every era. The day he turns sixty-three, Virgil receives a phone call from a young woman who asks him to handle the disposal of some family works of art. But when the time comes for his first site visit, the girl fails to appear, nor, for various reasons, is she present for the taking of the inventory or for the transportation and restoration of the pieces. More than once Virgil is tempted to bow out of what appears to be nothing but a bothersome mess, but on each occasion, the mysterious young woman, locked in her own obsessional world, convinces him to continue. And with this, the old antique dealer's life begins to take an unexpected turn. It is Robert who shows him, step-by-step, how to win the heart of a young woman who is afraid of the world and, caught in the middle of this puzzling game of chess, Virgil soon finds himself enveloped by a passion that will transform his grey existence forever. (C) IFC
News & Interviews for The Best Offer
Critic Reviews for The Best Offer
Audience Reviews for The Best Offer
With an appalling lack of subtlety, awful dialogue and badly-constructed characters (the protagonist's actions and motivations are puzzling from beginning to end), it seems like this corny little romance full of clichés and predictable twists is making a huge effort to be bad.
Carlos Magalhães
Super Reviewer
This could have been a great movie, but it has one too many unnecessary and off-key scenes and far too many on-the-nose components. Rush's character, Virgil Oldman, is an interesting character study, and of course, Rush delivers. Too bad this character is placed in a weird scenario as a reluctantly lascivious old man (hahah get it). The original premise has a classic fairytale feel, but is squandered on wish fulfillment sequences. The supporting characters are totally one dimensional and exist to push the boring plot, give space for Rush's character to voice his thoughts, or lay down some heavy-handed metaphors. The production design is the highlight of this film. There are many scenes that could produce an audible 'wow". If you want something light and pointless but visually engaging, this is a good flick to have on in the background while you get slammed or web surf.
_kelly .King
Super Reviewer
A film rich in symbolism and meaning, with a superb performance by Geoffrey Rush. Better than average cinematography and a twist that keeps you thinking and considering the message long after the film has ended. (Tell me the statute Rush hides behind isn't a brilliant allegory for the entire film! Brilliant!) The music gets high marks as well. Highly recommended -- even if you're only looking for a good caper movie.
Christian C
Super Reviewer
The Best Offer Quotes
| | |
| --- | --- |
| Billy: | Human emotions are like works of art. They can be forged. They seem just like the original, but they're a forgery. |
| Virgil Oldman: | Forgery? |
| Billy: | Everything can be faked, Virgil. Joy, pain, hate, illness, recovery, even love. |
| | |
| --- | --- |
| Virgil Oldman: | I suppose feeling a certain interest in a person necessarily engenders a conviction that she's beautiful. |
| | |
| --- | --- |
| Billy: | Emotions are like work of art. They can be forged they seem just like the original but they are forgery. |