The Big Blue
(1988)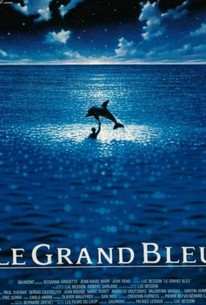 Movie Info
A visionary epic of obsession and beauty about Jacques Mayol, the handsome diver who is so at home in the water that he seems only half-human. Jacques' best friends are a family of playful porpoises and Enzo Molinari, his swaggering Italian diving rival. Jacques and Enzo grew up together in the Mediterranean, and remain lifelong friends despite a fierce battle for the top prize in the world free diving championships, where divers compete to see who can descend to the furthest depths of the sea with no equipment other than their own courage and determination. But when the dreamer Jacques falls in love with the beautiful Johanna, he finds himself torn between the damsel and the deep blue sea.
Critic Reviews for The Big Blue
Audience Reviews for The Big Blue
Luc Besson overindulges all over your face in this overlong consideration about what is better, dreams or reality, framed (very nearly incidentally) by the sport of free diving. Jean Reno dominates the work which includes many beautiful underwater scenes, particularly those including dolphins. But it is too long, and poor Rosanna Arquette is made to portray reality, at first beautiful but by turns nagging and annoying, for so long that there's really no question which way Besson's hero is gonna go.
Kevin M. Williams
Super Reviewer
½
Wow, even some of Luc Besson's French films are English-speaking, so I guess that should tell you just how much he wishes he was American. Actually, maybe it's not all that fair to say because even Mel Gibson was turning out American films in not just foreign languages, but ancient languages that close-to no one uses anymore, and anyone who does is probably a little bit weird. These multilingual foreign films have been around forever; Sergio Leone was making non-Italian Italian films all the time, only you never noticed, because they kept dubbing over everyone. I mean, come on, did you seriously think that they got Clint Eastwood to speak Italian? They probably tried, only it just sounded too ridiculous, and he kept tacking on "punk" at the end of everything. Well, anyways, bad jokes aside, the point is that Mr. Besson doesn't appear to be all that capable of holding on to his own culture, so of course he's not all that capable of holding an audience's attention, or at least when he's not having Jason Statham, Vincent Cassel or Liam Neeson jump around and beat people up. No, this film isn't all that disengaging, but if you're expecting this almost three hour film about a bunch of people swimming around with dolphins to be riveting then, well, clearly you're a fan of fishing, whereas I for one have to say that a bunch of people hanging out in whater, while making for a pretty decent movie, doesn't make for a terribly consistently engrossing non-epic. The film is rarely, if ever all that dryly dull, yet pads itself out quite considerably with bloated moments of pure meditation and excess material. In all fairness, I have only presented myself with the gratuitously whopping 168 minute director's cut, which tosses on an extra 36 minutes to the original European theatrical cut, much of which I'm sure has to be yet more padding, yet it's still safe to presume that bloating and padding plagued the original cuts as well, for this is a story that, in concept, could fit a lengthy runtime, yet in structure, doesn't even feel written broadly enough to sustain the theatrical cut's runtime, let alone the nearly three hour long mammoth I just watched. The film goes tainted with a fair couple of long, repetitive and, at time, disengaging periods of sobering meditation over pure nothingness, and limited intrigue the rest of the time. This limited intrigue uncovers the melodrama of the story, while the moments of meditation and consistent tone of overambition, as well as the occasional piece of cheesy dialogue and a remarkably really bad original song at the credits, augment the cheesiness. The film is unexpectedly lacking in subtlety, even with its limited broadness in plot, anchored down by a melodramatic and occasionally cliched storyline, as well only so many notes to the characters, from Jean Reno's almost exaggeratedly over smooth and vain Enzo Molinari character, to Rosanna Arquette's generic, obnoxiously overbearing and generally uncompelling Johana Baker character, whose unlikability certainly isn't helped by Arquette's uninteresting, when not equally obnoxious and one-note performance, much less her looking just so startlingly homely that there's not only no pretty face to look at, yet an extra serious serious lapse in feeling for Baker's and Jean-Marc Barr's Jacques Mayol character's relationship, because the undeniably good-looking dude could do way better, and you cannot afford to have your audience feel that way in a romance film, nor can you be this meditative and lengthy in a film this unsubtle and histrionic. It's a very overlong, very melodramatic and ultimately rather underwhelming take on a pretty promising premise, thus leaving it rather dissatisfying on a deep emotional level. However, as far as entertainment, the film engages more often than it doesn't, keeping itself going with charm and, of course, handsome style. As far as storytelling style is concerned, the film is faulty as all get-out, yet as far as visual style, the film is something to behold. True, Carlo Varini's cinematography isn't all that consistent in its dazzling color-bounce, yet when it does really play with lighting and color, the result often earns an "awe" and sometimes takes your breath away. Still, more than that, expect nifty and smooth camera tricks that really show off the beauty and sweep of the wonderful locations, while giving the film a kind of slickness that snaps in fittingly and breathes further life into the undeniable charm of the film. The film is a sappy one, as well as much too long for its entertainment value to triumph all that phenomenally, yet there is a charm in its simplicity and ambitious, however simultaneously detrimental it may be, and it's that charm that engages more than anything, with quite the colorful cast of charismas giving it an extra boost. Again, Rosanna Arquette's acting kind of stinks in some parts, evidently being that bad scent that's making her face perk so freakishly, yet the rest of her fellow leads hold their own, particularly Jean Reno, who steals the spotlight just about every golden time it falls upon him, as he graces the screen with such an awesome presence of slick-smooth charisma and lovable jerkery married with nobility, resulting in a character that may be written with few layers, yet goes performed with enough electric confidence by Reno that the film is almost worth watching for his cool self alone. Still, although Reno steals the show, it remains rightfully Jean-Marc Barr's, and while his Jacques Mayol character also unfortunately feels rather underwritten, he still presents enough calm charm and engaging relatability in his charisma to win you ever, yet when the all too occasional opportunity for him to stretch presents itself, he delivers on emotional range and an unexpected touch of subtlety that may not be used to the fullest, yet helps in earning your investment. On a deep substance level, a surprisingly deeply impacting final act that I wish I could have gone more into notwithstanding, the film is simply and sadly just not all that up to par, yet it still rises to the occasion as a generally entertaining charmer of the film that may not deliver on enough consistency in that entertainment to raise the film past a workmanlike level of quality, yet ultimately makes it worth the sit, regardless of how long of a sit it is. Ascending back to the surface after watching this film (Wow, speaking of overlong, that stretch of a metaphor took a while to get through), you leave behind an experience that more than outstayed its welcome, going padded out by excess material and moments of gratuitous meditation made ineffective by a considerable lack of subtlety and diversity within the occasionally conventional and consistently melodramatic, rather cheesy storyline, yet you still swim to the shores satisfied by the film's handsome style and general entertainment value, kept alive by incontrovertible consistent charm which, in it of itself, goes supplemented by a fair couple of charming performances, with the show-stealing Jean Reno and show-leading Jean Marc Barr delivering particularly winning performances that help in making "Le Grand Bleu", or "The Big Blue" - if you're not going to be like Luc Besson and pretend that this film English-talkie is really all that French enough for a French title - to triumph as a generally enjoyable piece of charming dazzle. 2.5/5 - Fair
Cameron Johnson
Super Reviewer
The Big Blue Quotes
There are no approved quotes yet for this movie.