The Big Feast (La Grande Bouffe)
(1973)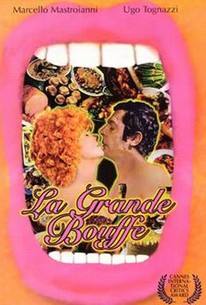 Movie Info
While aficianados of black Gallic humor willl find this film a feast, those unused to the earthiness of some French comedy will find this chronicle of the decadent suicides of four successful middle-aged men utterly tasteless. Bored with their routine lives, the quartet decide to lock themselves in a Parisian village and end their lives with an orgy of gluttony, wanton sex and general hedonism not seen since the fall of Rome.
Critic Reviews for The Big Feast (La Grande Bouffe)
Audience Reviews for The Big Feast (La Grande Bouffe)
½
"La Grande Bouffe" ("The Big Feast") is grandly overlong, considering it devotes 130 minutes to what amounts to a one-line plot (four men set out to eat themselves to death). This strange Marco Ferreri project gets labeled a black comedy, but where are the laughs? Beyond some spectacular fart jokes (the sound effects are strikingly realistic), this is a film centered on discomfort rather than humor. Certainly, the cast isn't the problem. The esteemed Marcello Mastroianni, Michel Piccoli, Philippe Noiret and Ugo Tognazzi play, respectively, a pilot, a TV host, a judge and a chef who meet one weekend at a country estate. But their cheerful getaway seems more and more peculiar, once time passes and we realize that the gang just never stops eating. Endless consumption of presented gourmet dishes accounts for most of the movie. So, unless you're keen to spend two hours watching some fine actors gnaw on every sort of greasy, gloppy, sticky food imaginable (do bread or vegetables appear onscreen at all?), expect to become reacquainted with your gag reflex. Even the sex scenes (naturally, the guys hire some female companions) are mechanical and unappealing. The film's repulsion factor would be more forgivable if the characterizations were solid. But these also disappoint. Little explanation is offered for the suicidal bent of these otherwise successful men. Their interest in prostitutes and free love suggests a parallel between their sexual and gastronomic appetites, but the script doesn't dig beyond this idea's surface. Luis Bunuel could have done better.
Eric Broome
Super Reviewer
Dark and grotesque, just like Ferreri.
Stefanie C
Super Reviewer
½
Four men, one of whom is a master chef, check into a villa and resolve to eat themselves to death. It's THE EXTERMINATING ANGEL meets LEAVING LAS VEGAS. Grotesque but oddly compelling, thanks to a dream cast including Marcello Mastroianni, Michel Picolli and Philippe Noiret.
The Big Feast (La Grande Bouffe) Quotes