The Big Kahuna
(2000)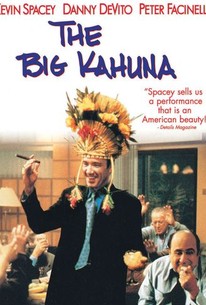 Movie Info
Three salesmen working for a firm that makes industrial lubricants are waiting in the company's "hospitality suite" at a manufacturers' convention for a "big kahuna" named Dick Fuller to show up, in hopes they can persuade him to place an order that could salvage the company's flagging sales. Phil (Danny DeVito) is in his mid-50s; he's devoted his life to his job but emotionally has little to show for it. He's learned to live with the loneliness of a salesman's life, but is smarting over the recent collapse of his marriage and is trying to quit drinking. Bob (Peter Facinelli) is a quiet but observant newcomer in his 20s, recently married and adjusting to his first business trip. And Larry (Kevin Spacey) is a bundle of energy who likes to drink, smoke, and start arguments; he's openly confrontational with Phil and Bob and quick to pick up on their foibles and failings. Phil and Larry become more impatient and bitter as the evening wears on, especially when they learn that "the big kahuna" already dropped by the suite; wearing someone else's name tag, he had a few drinks, talked with Bob about the recent death of his dog and Christianity, and never mentioned placing an order. Screenwriter Roger Rueff based the script on his play +Hospitality Suite; Kevin Spacey was a co-producer as well as starring as Larry.
Critic Reviews for The Big Kahuna
Audience Reviews for The Big Kahuna
Larry Mann: Did you mention perhaps what line of industrial lubricants Jesus would have endorsed?  "Every sale begins with a smile." The Big Kahuna is one of those one room, all dialogue movies. If you can't take a lot of conversation in movies, this is definitely not for you. That's all it is. Three guys in a hospitality room at a hotel talking. They are salesmen for industrial lubricants and they are having a convention in which they will try to land a big time client.  Two of the three are veterans, the third is a young newbie to the scene. The young one is also a religious man who let's his views on Jesus show more than his views on salesmanship. There's no real plot to be seen in The Big Kahuna. There's ideas and there's a lot of good dialogue, but not real plot. That isn't necessarily a bad thing either. I like movies like this as long as they can find a way to be entertaining.  I liked The Big Kahuna enough. Kevin Spacey is terrific in roles like this where he can talk a lot and on occasion scream. He's definitely the selling point for the whole film. Add Danny Devito to the mix and everything gets a little more interesting, even though there's not that much going on that I'd consider interesting. 
Melvin White
Super Reviewer
½
Wonderful! A simple and terrific film that is very well written and bring three good actors. Fresh.
Lucas Martins
Super Reviewer
I dont get it! Like its a good movie if you base it on Spaceys an Devitos acting and the fact it is wel written in the comedy part wth a few really good laugh out loud moments and the story is ok i understand there after a big sale but i dont understand why a guy whose really religious would ignore his job and talk about religion ? it just started to irritate me, i mean yes the story is good but i just dont see the point in the religious freak who thinks its more important to speak and spread thje word of god rather than try and get this sale by talking about lubricant which is his job! i just dont get it ! Apart from that its a funny movie but nothing more!
Film Crazy
Super Reviewer
The Big Kahuna Quotes
| | |
| --- | --- |
| Larry: | The carrot sticks went to my head. |
| | |
| --- | --- |
| Larry: | Love has a lot of counterfeits. |
| | |
| --- | --- |
| Larry: | In geologic time, we just met; however, in dog years, we go way back. |