The Big O
(2003)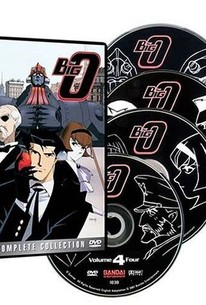 AUDIENCE SCORE
Critic Consensus: No consensus yet.
Movie Info
The Big O (1999) represents an unusual fusion of American and Japanese elements: the designs in this mecha detective series have a minimal, Art Deco-influenced elegance that recalls Warner Bros.' animated Batman, but the cyber-Girl Friday Dorothy Wayneright continues the anime tradition of android females. Everyone in Gotham-esque Paradigm City lost their memories in a mysterious "incident" 40 years ago; since then, they've struggled to survive in the half-ruined metropolis. Officially, Roger Smith is a Negotiator who handles difficult situations for the police, but he's really a crime fighter in the Batman tradition. Unfortunately, the stories lack the depth of plot and characterization needed to support the stylish graphics. Most episodes follow a simple template: Roger goes beyond his mandate to capture a villain; when the going gets tough, he summons the title character, a giant "Megadeus" mecha suit; Big O beats the transistors out the bad guy; Roger returns to his luxurious penthouse.

In the final episodes, the film makers began to tie together the mysterious plague that destroyed humanity's memories, schemes to restore those memories (or implant false ones), the origins of Big O, the truth about Dorothy's nature, and the sinister plans of Paradigm Corporation head Alex Rosewater. This complicated story line was supposed to play out in the second season, which was never produced, and the adventure simply ends. (Rated 13 and older: minor profanity, occasional suggestive humor, mild violence, alcohol and tobacco use) --Charles Solomon
Critic Reviews for The Big O
There are no critic reviews yet for The Big O. Keep checking Rotten Tomatoes for updates!
Audience Reviews for The Big O
½
Underrated. It's like a Japanese Batman retread in tone, but not in plot. I love the hard, oppressive noir design.
Drew Smith
Super Reviewer
The Big O Quotes
There are no approved quotes yet for this movie.