The Big Year
(2011)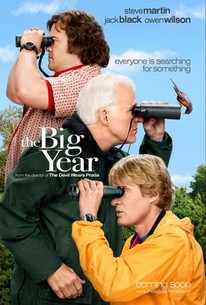 TOMATOMETER
AUDIENCE SCORE
Critic Consensus: Though made with care and affection for its characters, The Big Year plods along, rarely reaching any comedic heights.
Movie Info
Steve Martin, Jack Black and Owen Wilson are at a crossroads -- one is experiencing a mid-life crisis, another a late-life crisis, and the third, a far from ordinary no-life crisis. From David Frankel, the director of The Devil Wears Prada and Marley & Me, comes a sophisticated comedy about three friendly rivals who, tired of being ruled by obligations and responsibilities, dedicate a year of their lives to following their dreams. Their big year takes them on a cross-country journey of wild and life-changing adventures. -- (C) 20th Century Fox
News & Interviews for The Big Year
Critic Reviews for The Big Year
Audience Reviews for The Big Year
Although loaded with talent, top heavy with it in fact, this effort is so lackluster as to very nearly offend you with the waste perpetrated before your eyes. How lackluster? Jack Black comes across as a nice guy! (Say what?!?) Yep. If the police asked you to identify this film out of a line-up you will not be able to do it because you won't remember what it looked like.
Kevin M. Williams
Super Reviewer
Wasted My Time ON This One. 1 star 4-22-13
Bruce Bruce
Super Reviewer
½
The Big Year is an amiable, dull film with a star studded and underused cast of fine comedians who are unable to make this worth seeing. It's about bird obsessive bird watchers, but you won't care. I was wondering if bird watching was the problem, in that it's just not interesting enough to merit being a movie subject, but there are movies about ostensibly deadly dull pastimes that are riveting because of high stakes and a great script. See 'Clerks', 'Office Space', etc. This has neither. Apparently, the goal for major 'birders' is to see the most bird species in one year (on the honor system, you don't actually need to produce evidence!). This lame film is about three characters going head to head to achieve this. Steve Martin, looking strangely beaten throughout the film, seems to have the most screen time. I'd go along with him almost in any film, so intelligent and warm a comic presence, but I stayed with him here out of train wreck empathy. (I wish there was an actual train wreck!! Here his saddest moment is missing a plane). He plays a successful New York mogul on verge of retirement. Jack Black, a divorced office drone who lives with his parents (Brian Dennehy and Diane Wiest, even the most minor characters are accomplished!!) is his competition. Finally, Owen Wilson is the most arrogant and successful bird watcher in the world, and he's the villain. Wilson and Martin have beautiful long suffering wives (Rosamund Pike and Jobeth Williams) and Black has his eyes on fellow birdwatcher Rashida Jones. I won't waste your time with more plot description. This film has lovely locations (B.C. standing in for various U.S. birding meccas, like the Aleutian islands and the New Mexico desert) and wonderful shots of birds. Screenwriter and director David Frankel has made a career out of successful low key comedies (The Devil Wears Prada, Marley and Me). For example, Marley and Me was about a couple who adopt a dog. Their marriage is framed by the relationship with the dog and somehow, it's very moving and you care. This film doesn't care enough to raise any stakes. Everyone is so nice and has very little to lose. He tries to make us care whether Owen Wilson's wife will leave him because she's trying to get pregnant and he ignores her to have his 'big year'. She eventually leaves, and he doesn't change or care at all, due to a poor script and Owen Wilson acting limitations. Why should we give a damn? If you are falling asleep and would prefer to watch something that you won't care enough to rewind to catch up when you wake up, this is your movie. I marvel at the waste of money and talent.
Josh Morris
Super Reviewer
The Big Year Quotes
| | |
| --- | --- |
| Kenny Bostick: | only he knew the price he paid, to become the greatest birder of all time. |
| Kenny Bostick: | Only he knew the price he paid, to become the greatest birder of all time. |
| | |
| --- | --- |
| Fuchs: | I think I broke my arm |
| Fuchs: | I think I broke my arm. |
| Kenny Bostick: | Shhhhh... Shut up |
| Kenny Bostick: | Shhhhh... Shut up. |
| | |
| --- | --- |
| Brad Harris: | There is going to be a major fallout in a few hours! |
| Bill Clemont: | Nuclear fallout? |
| Brad Harris: | Bird fallout. |
| | |
| --- | --- |
| Kenny Bostick: | The trick is to keep your eyes on the horizon. |