The Bishop's Wife
(1948)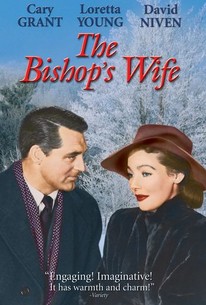 TOMATOMETER
AUDIENCE SCORE
Critic Consensus: The Bishop's Wife succeeds thanks to the strength of winning performances from a stellar cast, which includes Cary Grant and Loretta Young.
Movie Info
A harassed bishop's prayers are answered when an angel (Cary Grant) is sent from heaven to help him raise money for a new church. The heavenly agent performs a number of miracles on his behalf, restoring hope to all.
Critic Reviews for The Bishop's Wife
Audience Reviews for The Bishop's Wife
½
Simply put, this one is all about Grant's charm, no more, no less. There's a story here about an angel helping out a Catholic bishop in a bit of a fix right around Christmastime, but it hardly matters at all as the work either enjoys Grant while he's onscreen, or waits for him while he's off. The other characters only job is to look at him with their mouths agape when he's on, and all do this pretty darn well. The unsung highlight of the piece is a ice skating number in the middle. Still one of my favs from my youth.
Kevin M. Williams
Super Reviewer
Number 9 in the quest for 30, though netflix is making it harder by raising there rates. A lost and forgotten movie from long ago with an all star cast of Cary Grant, Loretta Young and David Niven. Cary Grant plays the angel Dudley who has come to earth to help a bishop in his dream of a church, along the way the bishop's wife played by Loretta Young falls in love with the angel. This is an excellent Christmas Film once again removed from TV play for its Christian Influence that was at one time instilled in all homes especially at Christmas. 5 Stars
Bruce Bruce
Super Reviewer
Grant is an angel, now both literally and in this movie. How could you not like this movie? It's precious, I love it.