The Bitter Tea of General Yen
(1933)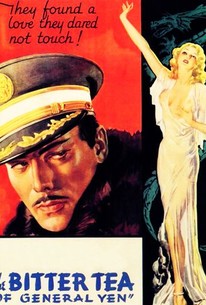 The Bitter Tea of General Yen Photos
Movie Info
The Bitter Tea of General Yen is the oddest, least characteristic talkie effort of director Frank Capra. Barbara Stanwyck stars as the intended of an American missionary (Gavin Gordon) who is sent to spread the good word in China. During a military revolution, Stanwyck and her fiance inadvertently wander into forbidden territory while trying to help a group of orphans escape. The couple is forcibly detained by elegant warlord General Yen (played by Swedish actor Nils Ashter), who relies upon the financial advice of drunken American expatriate Walter Connolly. Yen is overcome with desire at the sight of Stanwyck; at first repulsed by his attentions, Stanwyck finds herself strangely drawn in by his charisma. When everyone but Connolly deserts Yen when he needs them most, Stanwyck offers to stay behind with the General. Fearing that he will never be able to truly attain the woman he so loves, the honorable General Yen commits suicide by drinking poisoned tea rather than put her in harm's way. The one scene that everyone remembers takes place during one of Stanwyck's fevered dreams, in which she imagines Yen as a Fu Manchu-type rapist, who then melts into a gentle, courtly suitor. Directed with the exotic aplomb of a Josef von Sternberg by the usually down-to-earth Frank Capra, The Bitter Tea of General Yen was unfortunately a box office failure, due in great part to its miscegenation theme (this was still 1933). Even so, the film was chosen as the first attraction at the new Radio City Music Hall.
Critic Reviews for The Bitter Tea of General Yen
Audience Reviews for The Bitter Tea of General Yen
½
This early Frank Capra film is much different and more serious in tone than the later, lighter films that made his reputation. The story, of a young fiancee' of a missionary in China who is kidnapped by a general with whom she eventually falls in love, must have given the censors ulcers back then. Even discounting the interracial romance between Chinese General Yen (played by very much NOT Chinese Nils Asther, and very well at that) and American Megan Davis (a VERY young Barbara Stanwyck, playing bossy and sassy even here), there are scenes of mass executions, a violent streetfight, a bath scene by Stanwyck that one can tell was made intentionally sexy, and a variety of other questionable scenes. The film looks sumptuous, dark and mysterious, and the Chinese set decor and costumes are beautiful. I had a problem with the film however, in that I just wasn't convinced of the romance between Yen and Megan. In his position as powerful Chinese general, I couldn't see him falling for an American, especially with the gorgeous Toshia Mori around, playing the traitorous Mah-Li. But then again, there are plenty of couples out there that I would have never imagined could have hooked up. I'm really going to have to see this again. I think I may have missed something, especially the final scene between Stanwyck and Asther. May be something more there than I got the first time around.
½
capra's most daring film was a box office disaster in 1933. it was denounced by women's groups and religious organizations in america and banned in the british empire for obliquely portraying an interracial love story between star barbara stanwyck and a chinese general (played by a swedish guy of course *eyeroll*) and it's criticism of missionary work in china. racist attitudes and pronouncements made by white christian missionaries made the film rather subversive. a fascinating film sadly stuck between it's progressive ideas and it's traditionally racist casting *note* someone has suggested to me that political correctness shouldn't be a criteria for judging films and that 'racist casting' may in fact be insisting actors only portray their own race. i must admit this is an interesting point of view. plz discuss :)
Stella Dallas
Super Reviewer
½
Strange and unusal for a 30's film
The Bitter Tea of General Yen Quotes