The Black Cat
(1941)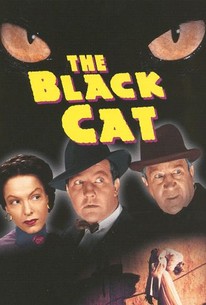 AUDIENCE SCORE
Critic Consensus: No consensus yet.
Movie Info
1941's The Black Cat is neither a remake of the 1934 Karloff-Lugosi film of the same name, nor does it bear the slightest relation to the same-named Edgar Allan Poe story (as if the 1934 picture did!) The fact that the heroes are played by Hugh Herbert and Broderick Crawford is indication enough that the 1941 film wasn't meant to be taken entirely seriously. It all begins when elderly cat fancier Henrietta Winslow (played by legendary vaudeville impressionist Cecilia Loftus) is murdered by a scheming relative. At the reading of the will, Henrietta's heirs discover that the old dear has left her entire fortune to her pet felines. No one will get a penny until all the cats join their ancestors in Tabby Heaven. Several more murders occur, as suspicion is cast on such shady types as Mr. Hartley (Basil Rathbone), Abigail Doone (Gale Sondergaard) and family butler Eduardo (Bela Lugosi in yet another red-herring role). By the time that bumbling Mr. Penny (Herbert) and Hubert Smith (Crawford) figure out who the real killer is, heroine Elaine Winslow (Anne Gwynne) is on the verge of meeting her doom as well. Billed last, Alan Ladd has practically nothing to do as one of the heirs. Hardly one of the classic Universal horror efforts, The Black Cat at least has the advantage of some spook camerawork, courtesy of Stanley Cortez (Magnificent Ambersons).
Critic Reviews for The Black Cat
All Critics (2) | Top Critics (1) | Fresh (1) | Rotten (1)
Quickly the film shows itself to be the usual kind of thing about an old house with secret passages, sliding panels, disappearing figures, reaching hands, and the like.
Basil Rathbone and a young Alan Ladd play two of the in-laws, Bela Lugosi is the nosy groundskeeper, and Hugh Herbert and Broderick Crawford offer heavy-handed comic relief.
Audience Reviews for The Black Cat
I really want to see this movie again, I saw it a long time ago, and loved it, but I don't remember much of the story now. I do remember the great actors: Lugosi and Rathbone. I still recommend this movie.
½
Light chiller with great cast who all seem to be enjoying themselves. Sondergaard is wonderfully malevolent although with a humorous touch. The sporadic humor is what actually saves the picture from being just another creaky house thriller.
The Black Cat Quotes
There are no approved quotes yet for this movie.